Australian PM outlines new asylum policy
Australian Prime Minister Julia Gillard unveiled a new asylum policy yesterday aimed at allaying voter fears about rising boat people numbers ahead of elections, with the centerpiece a possible East Timor processing center.
Conservative opposition leader Tony Abbott also released his asylum policy yesterday, saying he would "turn back the boats" by restoring the "Pacific Solution" of mandatory offshore island detention and temporary protection visas for boat people arrivals.
There are only 4,251 unauthorized arrivals in Australian detention currently, but while the numbers are small, border protection is a "hot button" issue with voters, which saw conservative parties win a stunning election victory in 2001.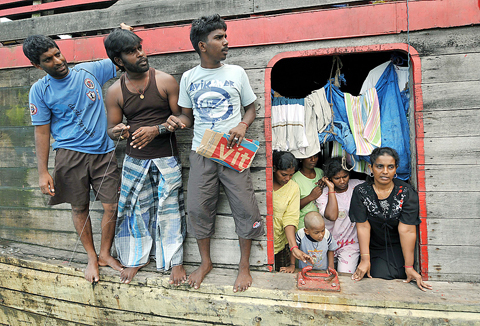 Sri Lankan asylum seekers wait on board a boat moored at Merak seaport in Serang District on Indonesia's Java island on Oct. 22 last year, after they were stopped by ­Indonesian authorities on their way to Australia.
PHOTO: AFP
Last month, the asylum seeker issue saw the ruling Labor party lose a key state by-election in ­western Sydney.
Gillard rejected charges her new policy was aimed at "rednecks in marginal seats," with marginal seats in mortgage-belt Australia likely to determine the election expected next month. Gillard is on course for a narrow victory.
She conceded that the ­mortgage-belt suburbs of outer Sydney and Melbourne had legitimate concerns when it came to rising population pressures, stretching infrastructure.
"It is wrong to label people who have concerns about unauthorized arrivals as 'rednecks,'" Gillard said in a speech in Sydney yesterday.
"There are racists in every country but expressing a desire for a clear and firm policy to deal with a very difficult problem does not make you a racist," she said. "For too long, the asylum seeker policy debate [in Australia] has been polarized by extreme, emotionally charged claims."
Gillard said she had held discussions with East Timor President Jose Ramos-Horta and the UN about establishing a regional asylum processing center in East Timor.
"The government's policy goal is ... to wreck the people smuggling trade by removing the incentive for boats to leave their port of origin [and] ... to remove both the profitability of the trade and the danger of the voyage," Gillard said.
"Arriving by boat would just be a ticket back to the regional processing center," she said.
When Labor won office at the end of 2007 it ended the "Pacific Solution" and mandatory detention of asylum seekers, but kept a Christmas Island detention center in the Indian Ocean and this year opened an outback camp to cope with rising numbers.
Gillard said offshore wars and unrest drove asylum seekers, not domestic policies of detention. She said Australian police working with Asian counterparts had prevented more than 5,000 people illegally reaching Australia since September last year.
Comments will be moderated. Keep comments relevant to the article. Remarks containing abusive and obscene language, personal attacks of any kind or promotion will be removed and the user banned. Final decision will be at the discretion of the Taipei Times.