Red Shirts disrupt Bangkok skytrain tracks
NO END IN SIGHT The government's refusal to speak anymore with the Red Shirts has raised fears of a military crackdown
Thailand's anti-government Red Shirt protesters threw tires onto elevated city rail tracks yesterday in a bid to thwart a feared military crackdown as the government talked tough against the protesters.
The Red Shirts said they would turn up the heat on Thai Prime Minister Abhisit Vejjajiva as they beefed up their defenses, planning an appeal today to persuade more people to join their mass rally in the capital.
Bangkok's Skytrain was halted for several hours after Red Shirts laid tires on the rails at a station above the protest site to stop troops using it for a possible surprise attack, forcing many commuters to walk to work.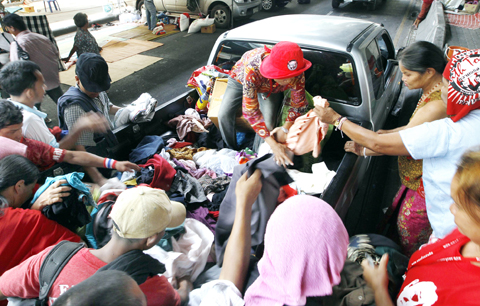 An anti-government "Red Shirt" protester, center, distributes clothes to fellow demonstrators inside their barricaded area in the Silom business district of the Thai capital yesterday. The protesters are following the instruction of protest leader Jatuporn Prompan, who encouraged them to do away with their signature red shirts to make it more difficult to separate them from Bangkok's 15 million residents.
PHOTO: REUTERS
Soldiers with guns were guarding Bankok, which is under a state of emergency and has been rocked by the worst political unrest for almost two decades, with 26 people killed and almost 1,000 injured this month.
The government said it would not tolerate roadblocks set up by the protesters — who have been staging weeks of rolling rallies to campaign for immediate elections — to prevent troop reinforcements heading to the capital.
"The government has intensified measures against protesters because they have created a situation of unrest by setting up checkpoints which violate other people's rights," Deputy Thai Prime Minister Suthep Thaugsuban told reporters.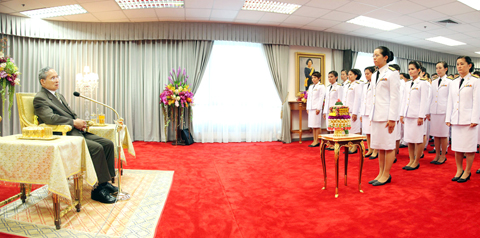 Thai King Bhumibol Adulyadej speaks to newly appointed judges during a ceremony at the Siriraj Hospital in Bangkok on Monday.
PHOTO: AFP/ROYAL BUREAU
"We cannot talk to these people any longer," he said.
Abhisit said his government was striving to find a political solution to the crisis, but he warned it would take time.
"We will try to enforce the law with minimum losses and we will try to find a political resolution, but it takes time, patience and cooperation," he said in an interview with CNN.
Abhisit has rejected an offer by the Red Shirts to disperse if elections are held in three months' time.
A day after King Bhumibol Adulyadej spoke of the need for peace in his first public remarks since the crisis began, protesters remained on high alert for a crackdown by security forces.
The Red Shirts have reinforced their roadblocks and stepped up security checks on the perimeter of their sprawling protest site, which has been fortified with barricades made from piles of truck tires and bamboo stakes.
"Each passing day will make us stronger. At least we can hold government forces at bay for another day," said a Red Shirt leader, Jatuporn Prompan.
Bhumibol spoke on TV on Monday for the first time since the protests broke out mid-last month, addressing a group of newly appointed judges, but he did not directly mention the political crisis.
"Do your job with honesty. In this country there may be some people who forget their duty. You should be an example by working honestly and properly, your job is very important," the king said.
"It will help the country to live in peace and contentment," the ailing 82-year-old told the judges at the Bangkok hospital where he has been since September last year.
Thailand's opposition has asked for an audience with the king, who has intervened in previous bouts of civil unrest.
The Red Shirts are mostly supporters of former prime minister Thaksin Shinawatra, who was ousted in a 2006 coup and now lives overseas to avoid a jail term for corruption.
Thaksin, who was in Montenegro on the weekend, said he had been in contact with the protesters.
"We just fight for democracy," he told reporters.
Comments will be moderated. Keep comments relevant to the article. Remarks containing abusive and obscene language, personal attacks of any kind or promotion will be removed and the user banned. Final decision will be at the discretion of the Taipei Times.