Chinese leader visits quake zone
TIBETAN EMPATHY The Dalai Lama has appealed to China to allow him to visit the quake-ravaged area, while praising its top leaders for their response
Chinese President Hu Jintao (胡錦濤) traveled to remote quake-hit northwestern China yesterday to inspect relief efforts as rescuers struggled to cope with a disaster that has killed more than 1,400 people.
The Chinese leader, who cut short a trip to Latin America to oversee the emergency response, went to visit victims in Jiegu, the largest city in the shattered region, four days after it was hit by a magnitude 6.9 quake.
Hu on Saturday chaired a meeting of China's top leaders, urging all-out efforts for the quake response, the Xinhua news agency reported.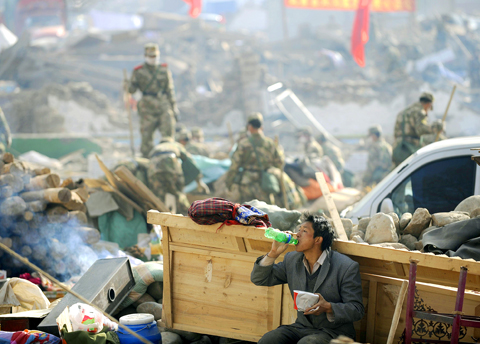 A survivor takes a drink as rescue soldiers sift through the rubble amid the earthquake devastation in Jiegu town, Qinghai Province, China, yesterday.
PHOTO: AFP
"As long as we have hope, we will put 100 percent into the rescue work," Miao Chonggang (苗崇鋼), an emergency official at the China Earthquake Administration, told a news briefing.
More than 6,000 people have been pulled alive from the rubble of collapsed buildings, Miao said. The number of personnel aiding rescue and recovery operations on the Tibetan Plateau had risen to 15,000, he said.
On Jiegu's streets, boxes of bottled water were dropped to help residents cope with water shortages as aid continued to pour in.
Infrastructure in Jiegu suffered major damage in the quake, with the water supply "basically paralyzed," Xia Xueping (夏雪萍), spokesman for relief efforts, told a news briefing in the town.
Geng Yang, the head of the civil affairs bureau in Qinghai Province, told reporters that essential items such as food, drinking water, cold-weather tents, quilts and clothing remained in short supply in the isolated area.
Officials have warned of a growing disease threat because of sanitation risks including damage to water supplies that could leave them polluted, although no such outbreaks had yet been reported.
Tibetan spiritual leader the Dalai Lama, who Beijing considers a separatist and was born in Qinghai Province, has appealed to the ­Chinese authorities to allow him to visit the quake zone, where more than 12,000 people were injured and 100,000 left homeless.
In Jiegu, residents were talking excitedly about the possibility of the Tibetan spiritual leader visiting for the first time since he fled after a failed 1959 uprising against Chinese rule.
"Everyone would like to see the Dalai Lama come here. He should come here," said 52-year-old Dorje, who like many Tibetans goes by one name, as he circled a local temple in a daily prayer ritual.
"The Dalai Lama was born in Qinghai," he said with a smile. "I think the government will allow him to come home."
However, it appeared unlikely Beijing would allow the exiled Tibetan spiritual leader to visit the crippled area to comfort victims in person.
The Dalai Lama praised the official response to the disaster, "especially Prime Minister Wen Jiabao (溫家寶), who has not only personally offered comfort to the affected communities, but has also overseen the relief work."
Tibetan Buddhist monks wearing maroon-and-saffron robes have been a prominent part of the rescue effort, digging by hand in search of survivors after the quake pancaked traditional mud and wood homes.
Monks cremated hundreds of victims on Saturday as hopes dimmed of finding further survivors and fears of disease spread. The official toll stood at 1,484 dead and more than 300 missing.
Naked, bloodied and bruised corpses were piled on a massive funeral pyre outside Jiegu on the remote Tibetan plateau and lit by chanting Buddhist monks.
The scale of the calamity and fears of disease forced a break from traditional Tibetan "sky burials" in which corpses are left on mountaintops to decompose or be consumed by vultures.
Beijing has offered families 8,000 yuan (US$1,170) for each relative who died in the quake.
Health authorities in the quake zone are particularly concerned that marmots who emerged from their burrows after the quake could spread pneumonic plague, Xinhua cited Jie Xuehui, a provincial health official, as saying.
A team of 16 quarantine ­workers and 10 plague specialists, equipped with disinfection vehicles and medicines and vaccines had been deployed, Jie said.
A light snowfall fell on Saturday in the region, where relief efforts have been complicated by sub-zero temperatures at night and scant oxygen because of the altitude of about 4,000m.
Comments will be moderated. Keep comments relevant to the article. Remarks containing abusive and obscene language, personal attacks of any kind or promotion will be removed and the user banned. Final decision will be at the discretion of the Taipei Times.