Militiamen attack Maguindanao patrol
IN HIDING More than 3,000 armed followers of the Ampatuan clan are on the run in the province and pose a major security threat, Philippine authorities said
Philippine police said yesterday that militiamen loyal to a powerful Muslim clan attacked security forces after martial law was imposed in a southern province following a massacre.
More than 3,000 armed followers of the Ampatuan clan — whose leaders are suspects in last month's slaughter of 57 people — are on the run in Maguindanao province and pose a major security threat, authorities said.
"These [militiamen] are in hiding with their weapons. They have said they will fight and there are many of them," said the commander of military forces in Maguindanao, Lieutenant General Raymundo Ferrer.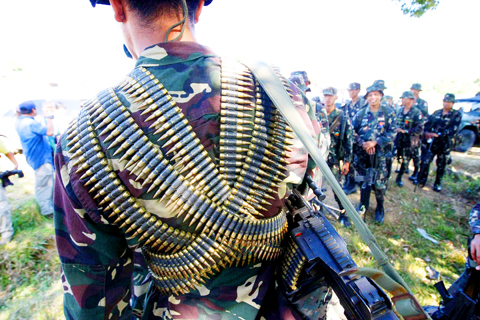 Soldiers secure the premises of Maguindanao provincial capitol in Shariff Aguak, the Philippines, yesterday.
PHOTO: EPA
In the first reported clash since President Gloria Arroyo declared martial law in Maguindanao on Friday night, police said Ampatuan militiamen on Sunday opened fire on security forces who were on patrol searching for illegal weapons.
"Suddenly they [the police commandos] were fired upon and there was an exchange of gunfire. They were not able to move so they called in reinforcements," national police chief Director General Jesus Verzosa said.
Verzosa said none of the police were injured.
Interior Secretary Ronaldo Puno said the bulk of the militiamen on the run were formerly under government control but had shifted allegiance and were being used by the Ampatuans "as instruments for violating the law of the land."
"They have severed themselves from the chain of command and lawful authorities that have been supervising them," Puno said.
Members of the Ampatuan family, which has ruled the province for a decade, are accused of orchestrating the Nov. 23 massacre of 57 people, including members of a rival Muslim clan's family and 30 journalists.
Arroyo said she was forced to impose martial law after Ampatuan forces threatened to attack if the family's leaders were taken into custody.
Thousands of troops and police have taken over the province since martial law was declared and raids on Ampatuan properties have yielded a vast array of military hardware.
Puno said these include 883 firearms, 430,000 rounds of ammunition, and anti-tank weapons and armored personnel carriers.
As of Sunday, 62 people had been arrested in the martial law sweep, including clan patriarch Andal Ampatuan Sr and four other clan members.
His son, Andal Ampatuan Jr, was arrested last week and is being held in a Manila jail charged with 25 counts of murder.
Puno said the clan leaders faced charges of rebellion on top of cases being prepared against them for their involvement in the massacre.
The murders were allegedly carried out to stop a politician from the rival clan challenging Ampatuan Jr for the governor's post in an election in May.
Opposition politicians and rights groups have criticized Arroyo's decision to declare martial law, warning the unpopular president may be secretly aiming to extend the measure across the country in a bid to hold on to power. Arroyo is required by the Constitution to step down as president in June next year.
But Defense Secretary Norberto Gonzales said martial law would be lifted as soon as the rebel forces were neutralized.
"What she [Arroyo] wants is once we accomplish this, right away martial law will be lifted," Gonzales said.
Arroyo delivered a report to Congress yesterday outlining her defense of martial law. Congress was expected to convene a joint session today to decide whether to support or revoke martial law.
Ampatuan Sr has ruled the province as governor since 2001 and was grooming his son to take his place. Other clan members were appointed to high provincial posts in Maguindanao, an impoverished province of 700,000 people.
Puno acknowledged yesterday the clan was able to maintain a private army because the government had used it to help contain a Muslim separatist rebellion that has claimed more than 150,000 lives since the 1970s.
Comments will be moderated. Keep comments relevant to the article. Remarks containing abusive and obscene language, personal attacks of any kind or promotion will be removed and the user banned. Final decision will be at the discretion of the Taipei Times.