McChrystal takes Afghan reins
RAISED EYEBROWS The new commander of 90,000 US and NATO troops is a veteran commander of top secret special hunt-and-kill operations in Iraq and Afghanistan
A veteran commander of top-secret special operations took charge of the nearly 90,000 US and NATO troops in Afghanistan yesterday, promising to shield Afghans from civilian casualties that have cost Western troops support.
"The Afghan people are at the center of our mission. In reality, they are the mission. We must protect them from violence, whatever its nature," US General Stanley McChrystal said at a ceremony on the lawn of NATO's Kabul headquarters.
He was presented with a flag of the NATO-led International Security Assistance Force by a German army general representing the alliance. A uniformed US military band played the Afghan and US national anthems beneath flags of NATO countries, flying at half staff in honor of fallen troops.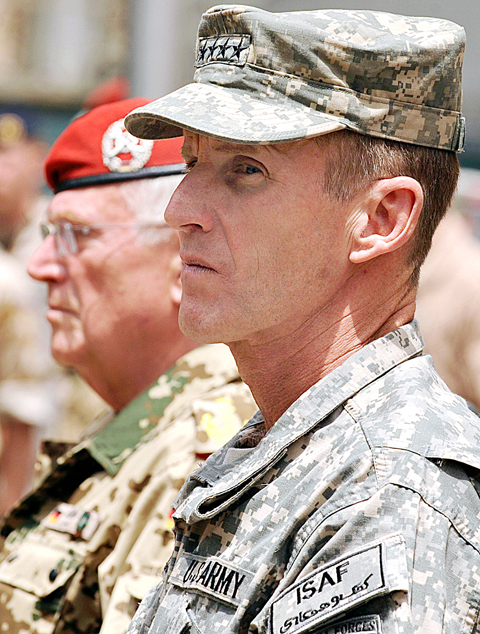 Incoming US General Stanley McChrystal, right, and Commander of the Joint Forces in Brunssum, the Netherlands, German General Egon Ramms stand during a change of command ceremony at the ISAF headquarters in Kabul, Afghanistan, yesterday.
PHOTO: AFP
Repeating a theme that has become a mantra of US counter-insurgency strategy, McChrystal said the foreign troops needed to earn the "support and trust of the Afghan people."
"If we gain that trust we cannot lose. If we lose that trust we cannot win," he said.
He arrived in Afghanistan on Sunday after winning backing from European allies, a month after being named by US President Barack Obama to succeed US General David McKiernan, abruptly removed from command of a war US officials said was not being won.
On arrival, McChrystal met Afghan President Hamid Karzai, who pressed him to avoid civilian casualties, Karzai's office said.
McChrystal takes command midway through a massive build-up of US forces that will see their numbers more than double from 32,000 at the end of last year to 68,000 by the end of this year. He also commands about 30,000 troops from other NATO allies.
Washington considers Taliban-led insurgencies in Afghanistan and neighboring Pakistan to be its main security threat and is diverting tens of thousands of troops to Afghanistan from Iraq.
US forces say the number of insurgent attacks in Afghanistan is at its highest since the militants were driven out of power in retaliation for shielding al-Qaeda leader Osama bin Laden after the Sept. 11 attacks on the US nearly eight years ago.
Fighting is expected to intensify over the next months as more troops deploy ahead of an August presidential election.
Civilian deaths caused by foreign troops hunting insurgents have angered many Afghans and have been the main source of friction between Karzai's government and the US.
The issue sparked anti-US demonstrations after a US airstrike last month that the Afghan government says killed 140 civilians, mostly children.
Washington acknowledges mistakes in that strike and says 20 to 35 civilians died along with about 60 people it believes were fighters.
McChrystal's background has raised some eyebrows: For most of the last six years he led a cadre of super-secret US special forces raiders in both Iraq and Afghanistan, tasked with hunting, capturing and assassinating insurgent leaders.
He has also held other senior posts, most recently as director of the Joint Staff in Washington. But much of his career is classified and his NATO biography leaves out many details.
In an interview with the Wall Street Journal this month he said he had learned that targeted killings, like those he has carried out for much of his recent career, were not enough to defeat an insurgency.
"Since 9/11, I have watched as America tried to first put out this fire with a hammer, and it doesn't work," he said. "Decapitation strategies don't work."
"You're going to have to convince people, not kill them," McChrystal said.
Comments will be moderated. Keep comments relevant to the article. Remarks containing abusive and obscene language, personal attacks of any kind or promotion will be removed and the user banned. Final decision will be at the discretion of the Taipei Times.