Palau says offering refuge is a tradition
OPEN ARMS The president of Palau described the move of detainees from the US' controversial prison for suspected terrorists in Guantanamo as only 50 percent likely
The tiny Pacific island nation that agreed to accept 13 Chinese Muslims from Guantanamo prison has offered itself as a safe haven before.
Palau, famed for lush tropical landscapes and spectacular diving, earlier agreed to take in former Khmer Rouge leader Pol Pot and rescued Afghan refugees, its president said on Saturday. But neither of those two deals panned out.
"It's our age-old tradition to receive those in need whenever they somehow arrive on our shores," Palauan President Johnson Toribiong said in an interview.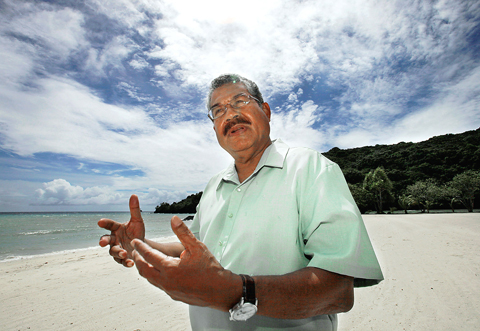 Palauan President Johnson Toribiong talks with a reporter during an interview in Palau on Saturday.
PHOTO: AP
Palau, a former US trust territory about 800km east of the Philippines, made headlines last week after agreeing to US President Barack Obama's request to take the 13 Chinese Muslims, known as Uighurs, after other countries turned Washington down.
Toribiong, however, said their transfer was not a done deal and described the likelihood of their arrival as "50-50." And even if they do arrive, it won't be for another two or three months, he said.
"It's still tentative, it's not definite yet," he said. "The two previous times, we agreed, but they didn't come."
The plan to temporarily move Pol Pot, the Cambodian dictator accused of genocide, to Palau before he faced an international tribunal never materialized because he died mysteriously in bed in April 1998, Toribiong said.
Several hundred Afghan refugees that Palau agreed to accept after they were rescued from a sinking boat near Australia in 2001 were sent instead to Nauru, another small South Pacific island.
Toribiong, interviewed at a beachfront resort, said he had never heard of the Uighurs until the US approached him earlier this month. He has sent four Palauan officials to Guantanamo Bay in Cuba to learn more about them.
Palau is one of the world's smallest countries, with about 20,000 people scattered over 490km². Only nine of its 340 islands are inhabited.
Most residents work in tourism, construction, fishing and farming, leading modest lives in stark contrast to elsewhere the Uighurs would live, or what they would do.
The government will build houses for them if needed and offer orientation to the nation's language and culture.
They will likely be confined to Palau since they do not have passports.
"If they come to Palau and become constructive, positive, friendly residents, it will be OK," Toribiong said. "We have 445 Muslims living with us right now. We have no problems."
About 30 percent of Palau's inhabitants are foreigners, mainly Filipinos and Bangladeshis. The majority of the nation is Christian.
The US will pay for the Uighurs' move to Palau.
Comments will be moderated. Keep comments relevant to the article. Remarks containing abusive and obscene language, personal attacks of any kind or promotion will be removed and the user banned. Final decision will be at the discretion of the Taipei Times.