Gang-rape victim marries police guard
A Pakistani woman who was gang-raped on the orders of a village court but went on to challenge her attackers and win international respect for her bravery, has now married.
The brutal realities of rural Pakistan mean that many who suffer Mukhtar Mai's ordeal commit suicide, but she decided to campaign on behalf of oppressed women and open a school for girls.
On March 15 she surprised the world by marrying a police officer who investigated her case and acted as a bodyguard.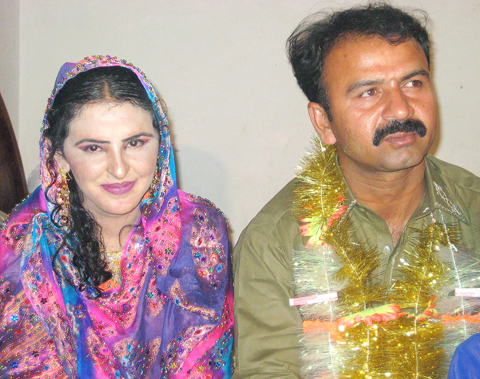 Mukhtar Mai, a gang-rape victim turned womens' rights activist, sits with her husband Nasir Gabol at their wedding in Muzaffargarh, Pakistan, on March 15.
PHOTO: EPA
In an interview last week in her remote home village of Meerwala, Punjab Province, the 37-year-old said that the constable, Nasir Abbas Gabol, had flirted with her even while he was protecting her.
"He offered to marry me but I flatly refused," she said.
It was only after Gabol, 30, apparently infatuated with her, threatened to kill himself if she did not agree, that she relented. He was already married and Mai was reluctant to trespass on his existing marriage, agreeing finally to become his second wife after the first wife also implored her.
"I would adjust [to marriage] because the co-wife is very positive," she said. "Every woman feels a strange joy on getting marriage which cannot be explained, [but] this was very difficult for me."
The nightmare began for Mai in 2002 when her teenage brother was accused of having an affair with a girl from another tribe, the Mastoi Baloch, which had higher social standing than her own.
Her brother was captured, beaten and sodomized by men from the Mastoi Baloch.
But, not satisfied by this, a traditional village court ordered that Mukhtar Mai be gang-raped as punishment. Four men dragged her into a barn and raped her.
Mai said she still received threats from local "influential people and landlords" to drop the charges and police still guard her.
She was awarded around US$8,000 in 2002 by the government, which she used to start the first primary school for girls in the village. She also began a group to campaign for women's rights.
Mai insisted that marriage would not change her mission and she would continue to live with her parents, not move into Gabol's village.
"I cannot betray my cause of giving the rights to oppressed women in the society facing all sorts of violence," she said.
Comments will be moderated. Keep comments relevant to the article. Remarks containing abusive and obscene language, personal attacks of any kind or promotion will be removed and the user banned. Final decision will be at the discretion of the Taipei Times.