Joe the 'Other' Plumber's phone ringing off the hook
Think of him as Joe the Other Plumber.
Joe Lara said Wednesday's night US presidential debate — in which both candidates referred to a hardworking American called Joe the Plumber — prompted a flood of phone calls, some from as far away as London.
Lara said his cellphone began ringing on Thursday morning, racking up dozens of voicemails.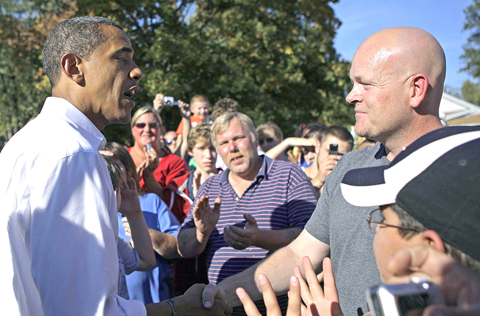 US Democratic presidential candidate Senator Barack Obama, left, talks to plumber Joe Wurzelbacher in Holland, Ohio, last Sunday.
PHOTO: AP
"I said: 'Who in the heck is calling me?'" he told the Ventura County Star.
Lara said he received more than 100 calls that day and did interviews with news organizations.
"They're trying to get insights on my political views," he said.
The journalists were hoping they had reached the Joe the Plumber referred to by Republican Senator John McCain and Democratic Senator Barack Obama on Wednesday night as the quintessential blue-collar American.
That Joe — Samuel Wurzelbacher of the key swing state of Ohio — had questioned Barack Obama about tax policies during a rally.
But Lara conducts business as Joe the Plumber and has a Web site, ­joelaratheplumber.com, which comes up in Google searches for Joe the Plumber.
Lara's Web site on Friday said it had received more than 113,000 hits and he had received more than 200 phone calls since the debate.
"I am the 'Real Joe the Plumber', licensed and living in the beautiful state of California," the site said. "I am NOT the unlicensed gentleman who lives in Ohio and was the actual subject of the debate..."
Lara said he watched the debate for only about 30 minutes and is still undecided about his vote.
Comments will be moderated. Keep comments relevant to the article. Remarks containing abusive and obscene language, personal attacks of any kind or promotion will be removed and the user banned. Final decision will be at the discretion of the Taipei Times.