Livni says time running out for deal
WAITING WON'T HELP The Israeli foreign minister warned against allowing Israel's internal political issues and the US presidential election to delay talks
Israeli prime minister-designate Tzipi Livni warned on Sunday that time is running out for a peace agreement between Israel and the Palestinians, with extremists gaining strength as negotiations stumble.
In her first foreign policy speech since her appointment to form a new Israeli government, Livni said Israel must press ahead with peace talks because "doing nothing has its own price."
Israel and the Palestinians resumed talks last November at an international conference hosted by US President George W. Bush. They set a target date of January, when Bush leaves office, for completing a peace deal, but little progress has been made and both sides cast severe doubt about meeting the target.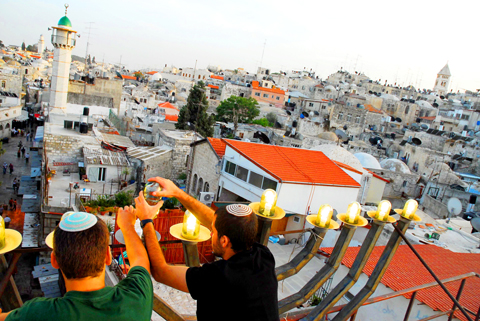 Israeli Jews replace a lamp on a menorah situated on the roof of Wittenberg House, an apartment complex in the Muslim quarter of Jerusalem's old city, on Sunday. The building was purchased by the ultra-nationalist Ateret Cohanim association, which aims to reinforce the Jewish presence in the old city and East Jerusalem. The group has bought several properties in Muslim quarters of the city since 1978.
PHOTO: AFP
DANGER
Livni, who heads the Israeli negotiating team, warned there are dangers in letting the process drag on indefinitely.
"An understanding of what is under way in the region shows that time is not working in the favor" of Israel and regional moderates, she said, indicating the growing strength of the Islamic Hamas militants, who overran the Gaza Strip last year and are challenging moderate Palestinian President Mahmoud Abbas in the West Bank.
Livni was speaking at a strategy conference in Jerusalem.
She is the foreign minister in Israeli Prime Minister Ehud Olmert's transition government. Plagued by multiple corruption investigations, Olmert resigned last month after his party chose Livni to replace him.
COALITION GOVERNMENT
Livni is trying to put together a majority coalition government.
She has until Nov. 3, but she warned that protracted political turmoil could be harmful.
"Creating political stability quickly is necessary not for political needs, but so that we can ... deal with the challenges from outside, economic and others," she said.
If Livni fails to form a government, Israel would have to hold a general election early next year. Hardline Likud opposition leader Benjamin Netanyahu is confident of victory, running roughly even with Livni in polls. He opposes most concessions to the Palestinians for peace.
SIT AT THE TABLE
Livni said peace talks with the Palestinians must continue regardless of the leadership changeovers in the US and Israel.
She emphasized that the goal is a full peace treaty, breaking from Olmert, who despaired of completing an accord by the target date and hoped for a declaration of principles or status report instead.
She endorsed the Palestinian view of the negotiations as an all-or-nothing affair, with no partial accords or agreements on some issues but not others. She said the two sides concur that "nothing is agreed upon until everything is agreed upon."
Also unlike Olmert, Livni did not spell out the shape of an agreement as she sees it. In a newspaper interview last week, Olmert said peace would mean Israel's relinquishing control of the West Bank or equivalent territory as well as much of the Arab section of Jerusalem.
DELICATE PROCESS
"We agreed to handle the talks in the negotiating rooms, not in the headlines," Livni said.
Setting borders is just one of the core issues that have stymied negotiators for years. Others are control over Jerusalem's explosive holy sites and a solution for Palestinian refugees. A host of security issues also confronts the two sides after decades of violent confrontation.
Livni warned against allowing Israel's internal political unrest and the US election campaign to deflect the two sides from their goals.
"If we leave the negotiating rooms and look at the calendar, or think that a government is changing, or an administration is changing, and we have to reach something partial, something that doesn't offer a response to the genuine demands of the Palestinians and Israelis, that will be a mistake that we can't allow ourselves," she said.
Also on Sunday, Olmert and Livni met separately with visiting French Foreign Minister Bernard Kouchner. He said he hoped Livni could establish a government quickly.
Kouchner said he was told of "real progress" in peacemaking during his talks, but he feared that all sides were waiting for the Israeli and US political pictures to clear up.
Comments will be moderated. Keep comments relevant to the article. Remarks containing abusive and obscene language, personal attacks of any kind or promotion will be removed and the user banned. Final decision will be at the discretion of the Taipei Times.