More than 30 die in ethnic violence in NE India
MIGRANTS IN PERIL Assam's health minister said the NDFB, a rebel group fighting for an independent tribal homeland, was responsible for a program of 'ethnic cleansing'
India's Assam state deployed thousands of paramilitary troops yesterday to quell clashes between Muslim migrants and tribal groups that have left more than 30 people dead.
More than 60,000 people have been forced to flee their homes as a result of the violence that broke out Friday and swiftly spread through three districts of the northeastern state.
A senior Assam police official said an additional 2,100 paramilitary personnel were being sent to the affected areas, where curfews with shoot-on-sight orders have already been imposed.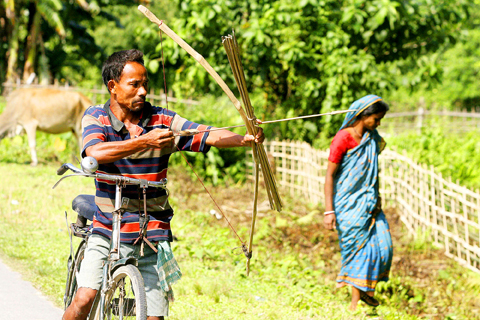 A man points a bow and arrow near a relief camp on Sunday in Udalguri in the Indian state of Assam.
PHOTO: AP
SPEARS
The clashes, between members of the Bodo tribal group and Muslim settlers originally from Bangladesh, have witnessed raids on numerous villages by groups armed with bows and poison-tipped arrows, spears and machetes.
"They set fire to a large a number of homes in my village," said Dipali Basumatary, who had taken shelter with her two children in a government-run relief camp.
At least half the fatalities so far have been people killed in police firing.
Although there have been tensions between indigenous and immigrant communities in Assam, violence on such a scale is extremely rare.
Some state officials accused local separatist groups of fueling the unrest.
Assam health minister Himanta Biswa Sarma said the root cause was a program of "ethnic cleansing" implemented by the National Democratic Front of Bodoland (NDFB), a rebel group fighting for an independent tribal homeland.
'POGROM'
"They want to drive out all non-Bodos from the area ... it's a systematic pogrom," Sarma said.
The NDFB, which is a largely Christian outfit, entered into a ceasefire with the Indian government in 2005, but has never renounced its independence struggle.
"We are investigating reports of the involvement of the NDFB in the clashes and, if proved, we shall be forced to call off the ceasefire," said Assam Chief Minister Tarun Gogoi.
"Locals are threatened by the growing Muslim population, which is above 40 percent," said Noni Gopal Mahanta, of the Peace and Conflict Studies Center at Gauhati University.
"There has been simmering tension for quite sometime and now the situation is grim," Mahanta said.
More than 10,000 people have lost their lives to insurgency in Assam during the past two decades.
Comments will be moderated. Keep comments relevant to the article. Remarks containing abusive and obscene language, personal attacks of any kind or promotion will be removed and the user banned. Final decision will be at the discretion of the Taipei Times.