Inter-faith summit hears appeals for a formal structure linking religions
Leaders of the world's main religions kicked off an annual inter-faith peace summit on Sunday with calls for a global organization uniting their faiths.
Orthodox Patriarch Bartholomew I, Archbishop of Canterbury Rowan Williams, Israel's chief rabbi Yona Metzger and the imam of the United Arab Emirates, Ibrahim Ezzeddin, were among those attending the gathering.
"Civilizations don't dialogue directly, but through those who carry their traditions and cultural values. So we should not speak of a dialogue of civilizations, but a culture of dialogue," Bartholomew said.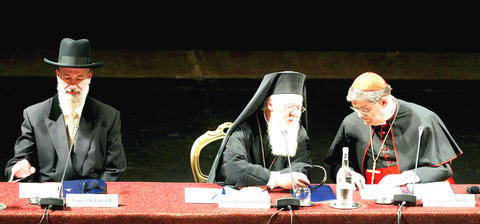 From left to right, Israel's Ashkenazi chief rabbi, Yona Metzger, Orthodox Patriarch Bartholomew I and Cardinal Crescenzio Sepe of Naples attend an international peace summit in Naples, Italy, on Sunday.
PHOTO: EPA
Metzger proposed a "United Nations of Religions" that would "embrace the heads of religious communities that have a profound influence on their congregations."
"If we sit down together around one table ... surely we could arrive at effective solutions," he said.
Ezzedin, too, advocated a formal structure linking world religions, saying: "This important grouping of God-fearing people cannot and should not limit itself to processions, conferences and seminars."
"We need to form a permanent and authorized executive machinery for ... executing any decisions we may make," he said.
However, he spoke harshly of "unjustified provocations in places such as Iraq and Afghanistan and ... unfair dealings in Palestine" that have prompted "some Muslim individuals and groups [to go] astray and wrong themselves by violent actions."
"We are dismayed by the behavior of some great powers who continue to act aggressively against other countries," he said.
The Sant'Egidio summits were launched 21 years ago by John Paul II in the birthplace of Saint Francis.
Comments will be moderated. Keep comments relevant to the article. Remarks containing abusive and obscene language, personal attacks of any kind or promotion will be removed and the user banned. Final decision will be at the discretion of the Taipei Times.