Dozens killed in bloody Saturday in Mogadishu
'OPPORTUNISTIC VIOLENCE' Hospitals did not have enough beds to treat all the injured and had to set up tents outside to accommodate the incoming victims
At least 52 people were killed and 120 wounded in heavy fighting on Saturday in the Somali capital, a human-rights group and hospital officials said.
Fighting between Islamic insurgents and Ethiopian troops backing the government had stopped overnight, but both sides were again battling by Saturday morning. Hundreds of people fled the violence on foot and piling into trucks and hospitals were overwhelmed with casualties.
Somalia's Elman Human Rights Organization said Mogadishu residents, hospital workers and human rights workers told it that at least 52 civilians had been killed and many wounded on Saturday.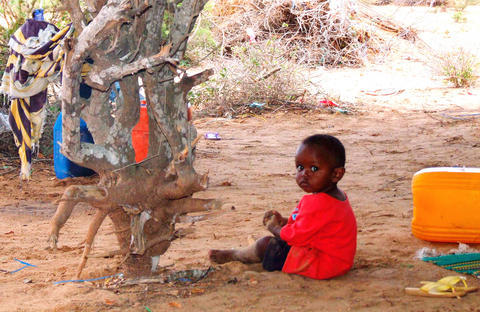 In this picture released on Saurday, a small boy is seen sitting under a tree on the outskirts of Mogadishu, where his family has set up home after fleeing the continuing violence of the Somali capital pitting the Ethiopioa-backed army against Islamist insurgents.
PHOTO: EPA
Several hospital sources said they had received at least 120 wounded from Saturday's fighting. They spoke on condition of anonymity for security reasons.
The new tallies brought the death toll in four days of fighting in Mogadishu to at least 165 people and more than 229 wounded, the human rights group said.
Saturday's violence was the worst in recent years, said Sudan Ali Ahmed, the chairman of the decade-old Elman Human Rights Organization.
"I call on the both sides to stop the fighting and shelling without any condition," to save civilian lives, Ahmed said by telephone.
The UN refugee agency said that 321,000 people have fled Mogadishu since February because of the violence.
Ethiopian troops fired mortar shells from the presidential palace in the direction of northern Mogadishu, the main battlefield between the two sides.
Local radio stations reported that the insurgents and Ethiopians had engaged in street battles mainly in the capital's southern and northern districts.
One station, HornAfrik, was hit by a mortar and went off the air. A reporter and a technician were injured, said Abdullahi Kulmiye, a colleague of theirs.
Hundreds of women, children and men walked or got onto trucks to flee to safer parts of Mogadishu, such as its northern outskirts, or to leave the city altogether for southern or central towns.
Those traveling on foot carried on their heads cooking utensils, bedding and clothes wrapped in sheets. Some looked weak and said they had not eaten for days.
"I prefer to flee my home to a safe place to avoid the shelling," said a mother of eight who only gave her name as Faduma.
She said she had not eaten for two days and that during March battles between the insurgents and Ethiopians, her husband and firstborn daughter were killed.
"It is better to die in a safe place hungry and thirsty than to wait for mortar shells," said Faduma, whose home is in the northern Mogadishu area of Kungal, a known insurgent base and the scene of some of the heaviest fighting in recent days.
Dahir Dhere, director of Medina hospital, said his hospital had more wounded than it could handle and they had set up tents outside to accommodate the increasing number of injured people arriving.
On Saturday, US Ambassador to Kenya Michael Ranneberger said it would be wrong to describe the recent bloodshed in Mogadishu as a full-blown Islamic insurgency.
Ranneberger, whose mandate also includes Somalia, said the violence has not been organized and was carried out by clan rivals and remnants of an ousted Islamic movement that has threatened an Iraq-style insurgency.
"They are trying to create an insurgency," Ranneberger said in Kenya. "But at this point it's opportunistic violence. They're not organized like an insurgency."
Somali troops, assisted by Ethiopian forces, ousted the Council of Islamic Courts from Mogadishu and other strongholds in December. Since then the capital has seen of waves of violence. The most deadly began late last month and saw hundreds of people killed, most of them civilians.
Comments will be moderated. Keep comments relevant to the article. Remarks containing abusive and obscene language, personal attacks of any kind or promotion will be removed and the user banned. Final decision will be at the discretion of the Taipei Times.