Colombian Foreign Minister Araujo refuses to resign
PRESSURE Maria Consuelo Araujo has faced calls for her resignation after her brother and father were implicated in a scandal which has seen eight federal lawmakers arrested
Colombia's foreign minister is rejecting calls for her resignation after her brother's arrest on charges of kidnapping a businessman and of working with far-right paramilitary gangs, even as the Supreme Court implicated her father in the scandal.
"It's a difficult time for me," Foreign Minister Maria Consuelo Araujo said on Friday in a hastily called news conference. "But as I've always done in my public life, I'm going to keep working with efficiency, honor, results and joy. The country needs us to work and that's what we're going to keep doing."
Senator Alvaro Araujo was one of five politicians arrested on Thursday, bringing to eight the number of federal lawmakers jailed for allegedly backing and benefiting at the ballot box from brutal intimidation by the militias, which are responsible for some of the worst massacres in Colombia's five-decade civil conflict and much of its cocaine trade.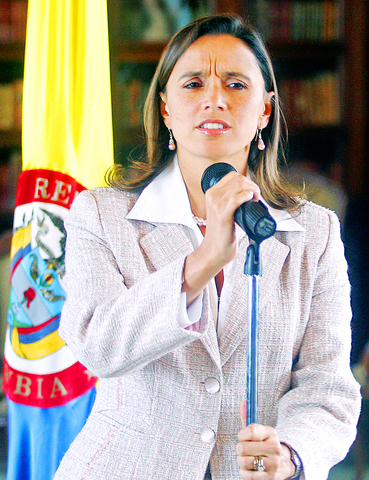 Colombian Foreign Minister Maria Consuelo Araujo answers questions during a press conference in Bogota on Friday.
PHOTO: AFP
In the burgeoning scandal, more than 60 federal and regional politicians -- almost all from the Caribbean coast -- have been questioned by the Supreme Court, including the foreign minister and several members of her influential political clan.
A Supreme Court official told RCN radio on Friday that Judge Yessid Ramirez has received death threats since the court began probing links between the politicians and a paramilitaries. Attempts to reach Ramirez were unsuccessful.
The US government considers Colombia's paramilitary groups to be terrorist organizations.
The Supreme Court said on Friday it would provide prosecutors with evidence that Araujo's father -- a former agriculture minister and governor of Cesar state -- may have participated along with his son Alvaro in the kidnapping of a local businessman five years ago. The man was released after 80 days in captivity for an undisclosed ransom. Alvaro Araujo would face up to 40 years in prison if convicted.
In addition, the chief prosecutor has said the foreign minister's sister may have passed money to the paramilitaries. And Araujo's cousin, the current Cesar governor, has been called to testify as well.
All of the arrested men are from the political camp of President Alvaro Uribe, who despite the scandal remains popular for having tamed violence in Colombia's major cities and highways since he was first elected in 2002.
Uribe has stood behind his foreign minister despite demands for her resignation from the opposition, which says she should not be the public face of Colombia as the nation seeks international support for fighting leftist rebels, reducing human rights violations and diminishing the world's largest cocaine industry.
The other lawmakers arrested on Thursday were Mauricio Pimiento, Dieb Maloof, Alfonso Campo Escobar and Luis Eduardo Vives. An arrest order was issued for a sixth, Congressman Jorge Luis Caballero.
In a radio interview after his arrest, Maloof said the witnesses against him were criminals who cannot be trusted, and said the charges are based on "fallacies that are degenerating the country into a political cataclysm."
Comments will be moderated. Keep comments relevant to the article. Remarks containing abusive and obscene language, personal attacks of any kind or promotion will be removed and the user banned. Final decision will be at the discretion of the Taipei Times.