Courthouse bombing kills at least 15
PAKISTANI WOES At least 50 people were injured in the blast, which police said may have been caused by a suicide bomber. Many suffered multiple broken bones
A powerful bomb exploded inside a southwestern Pakistan courtroom yesterday, killing a judge and 14 others, police and other officials said.
The bomb exploded while the court was in session and a senior judge and six lawyers were among those killed, police said.
At least 50 people were injured in the attack, officials said.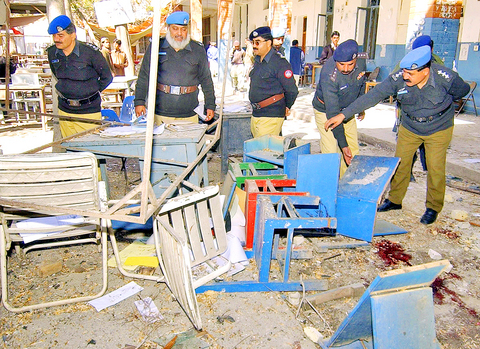 Policemen inspect the site of a bombing in Quetta, Pakistan, that killed at least 15 people yesterday and injured dozens of others.
PHOTO: AFP
A doctor at Quetta's main hospital said at least 10 of the injured were in a critical condition, with severe burn injuries.
He added other casualties have suffered multiple broken bones and shrapnel wounds.
Police found a head among the carnage, raising suspicions that the blast could be have caused by a suicide bomber, said Rehmat Niazi, the police officer in charge of operations.
It was not immediately clear who was behind the attack at the District Courts complex in Quetta, the capital of southwestern Baluchistan Province.
Afaq Zahid, an area police chief, said they had transported the dead and injured to a hospital, adding that "Civil judge Abdul Wahid has died in the bomb explosion."
Information was not immediately available about who was on trial and on what charges.
The blast shattered windows and destroyed furniture inside the courtroom. Shoes, strips of clothing and body parts littered the scene.
Police collected body parts, and bomb disposal experts were investigating to determine the exact nature of the attack, Khan said.
Pakistani Interior Minister Aftab Khan Sherpao quickly condemned the blast, terming it "an act of terrorism."
Shortly after the attack, lawyer and relatives of the dead and injured gathered outside the District Court complex, and chanted anti-government slogans.
Hundreds of relatives thronged a main government hospital where the casualties were taken, according to witnesses, who said police were trying to pacify the emotional people.
More police patrols were immediately apparent in the city.
The attack came a day after police announced that they had arrested five suspected militants from Karachi and Rawalpind, and that the suspects were planning suicide attacks on foreigners and minority Shiite Muslims.
Comments will be moderated. Keep comments relevant to the article. Remarks containing abusive and obscene language, personal attacks of any kind or promotion will be removed and the user banned. Final decision will be at the discretion of the Taipei Times.