German astronaut tries to readjust to life on Earth
GIDDY BUT GLAD Despite the dizzying effects of gravity, Thomas Reiter was gradually recovering from his space trip, with the aid of a breakfast of ham and eggs
German astronaut Thomas Reiter said on Saturday he was struggling with gravity but enthralled by space after coming back to Earth following six months on the International Space Station.
Reiter, the first non-American and non-Russian to spend an extended period on the orbiting station, was aboard the space shuttle Discovery when it touched down in the US on Friday evening.
The European Space Agency (ESA) astronaut carried out dozens of scientific experiments on subjects from nuclear fusion to the human immune system and helped prepare for a European science laboratory module called Columbus to be added to the space station next year.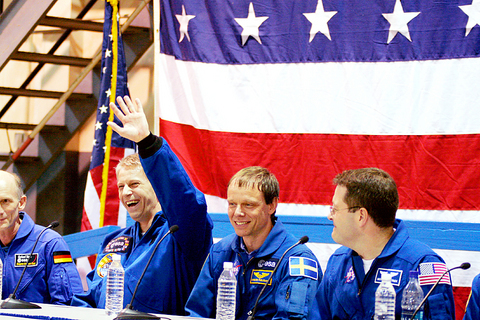 German astronaut Thomas Reiter, left, waves at a welcome ceremony in Houston, Texas, on Saturday. The crew of the Space Shuttle Discovery landed at Kennedy Space Center on Friday after spending more than 12 days in flight during a trip to the International Space Station.
PHOTO: AP
Reiter said he was relieved to return safely, even though he might have to spend Christmas in Houston under medical supervision as he readjusts to gravity.
"The first hours are no fun. If you move your head even slightly, you feel totally dizzy," Reiter said.
"It's not so nice for the kids, but they are happy that their pop is back," Reiter said from Cape Canaveral, Florida, where he was greeted on Friday by his wife and two sons.
He said he was recovering slowly, also thanks to a longed-for breakfast of ham and eggs, orange juice and coffee.
Reiter spent six months in the mid-1990s on Russia's Mir space station, where he also performed two spacewalks, and said it had been interesting to see how technology had changed on the stations and to compare the Russian Soyuz spacecraft with the NASA shuttle.
This time, he performed one space walk in a US space suit and found it "more ergonomic, but also more complicated," noting that the NASA suits have to be returned to Earth for servicing.
Reiter's arrival on July 6 brought the station's long-stay crew back to three for the first time since 2003, after the Columbia disaster halted the shuttle program.
Reiter said he thought of the seven astronauts who died aboard Columbia before Discovery began its re-entry into Earth's atmosphere.
"But such a thought goes through your head for just a split-second and then it is gone and you concentrate on what you have to do," he said.
He spent more time marveling at the views from space, whether looking out of a window on the station while playing a guitar kept there to help the astronauts relax or even during his space walk.
"Imagine spinning at nearly 28,000km per hour around the earth and looking up at the station, this huge structure: it is simply fantastic," he said.
He said he would like to return to space, but acknowledged that many ESA colleagues were awaiting their first chance.
"I've spent almost a year in space," he said. "That's just fine."
Comments will be moderated. Keep comments relevant to the article. Remarks containing abusive and obscene language, personal attacks of any kind or promotion will be removed and the user banned. Final decision will be at the discretion of the Taipei Times.