More dumped bodies found near Ipswich
GROWING FEARS Five bodies have been discovered within a few kilometers of each other in eastern England since the start of this month, prompting mounting concern
The red light district of the English town of Ipswich was deserted overnight as British police continued their probe into the murders of three prostitutes in the area yesterday, after discovering two more bodies.
The new corpses, presumed to be those of women reported missing for several days, were confirmed by police in the eastern port town, fuelling fears that a serial killer was at large.
All women are being warned to take care once darkness falls as the pre-Christmas party season warms up.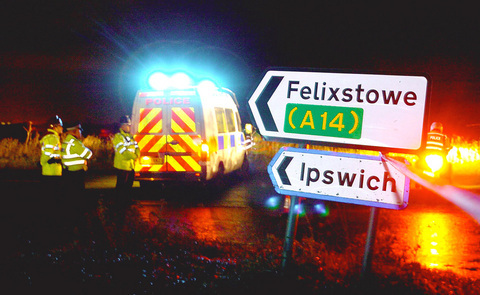 British police seal off an area near Levington, England, following the discovery of two bodies nearby on Tuesday. The detective leading the investigation said it was likely they were those of missing prostitutes Annette Nicholls and Paula Clennell.
PHOTO: AP
"The natural assumption is that these are the two missing women," said Detective Chief Superintendent Stewart Gull, who is leading the investigation.
The first two murdered women -- Gemma Adams, 25, and 19-year-old Tania Nicol -- went missing in the red light district of Ipswich on Nov. 15 and Oct. 30 respectively.
Police on Tuesday confirmed the identify of a third woman, whose body was found in woods on Sunday, as 24-year-old Anneli Alderton, adding that she had been strangled.
And they admitted there was still no news of two other missing prostitutes: Paula Clennell, 24, who had not been seen since Saturday, and Annette Nicholls, 29, who had been missing since Dec. 4.
Later on Tuesday their worst fears appeared to be confirmed.
Around mid-afternoon a naked body was found in open rural land, Gull said. A helicopter was called in, and spotted a second corpse about 90m away from the first one.
"We can only fear the worst," Gull said. "The natural assumption is that these are the two missing women."
Gull has previously said that the killings could be the work of a serial killer. Asked for his view after the latest bodies were found, he said: "We need to keep an open mind."
While for the moment only the first two deaths are being linked, Gull has admitted that "the facts speak for themselves" in terms of the similarities between the killings.
"Although there are obvious and distinct similarities of the murders ... we need to carry out further work to determine whether these deaths are linked," he said.
Earlier the police chief launched a direct appeal to the killer or killers to surrender themselves.
"My appeal is simple: give yourself up," he said. "Make contact with Suffolk police. You have a significant problem. Give me a call and we can deal with this."
Meanwhile, it emerged that one of the missing prostitutes said only days ago that she was prepared to dice with danger by going back on the streets because "I need the money."
"The girls are probably wary about coming out now," Clennell told ITV television, in an interview after the first bodies were found, but added that while she was "a bit wary about getting into cars" she would probably still do it anyway.
Comments will be moderated. Keep comments relevant to the article. Remarks containing abusive and obscene language, personal attacks of any kind or promotion will be removed and the user banned. Final decision will be at the discretion of the Taipei Times.