Chadian aircraft downed
SUDAN ACCUSED A government official claimed that some refugees were working for the Sudanese and called for the camps near the border to be evacuated
A Chadian military reconnaissance plane was shot down in the volatile east by rebels using a surface-to-air missile, officials said.
The plane was downed on Tuesday close to the Sudanese border, government spokesman Hourmadji Moussa Doumgor said at a news conference. He gave no other details.
Doumgor repeated Chad's accusations that Sudan backed the rebels, charges Sudan has denied.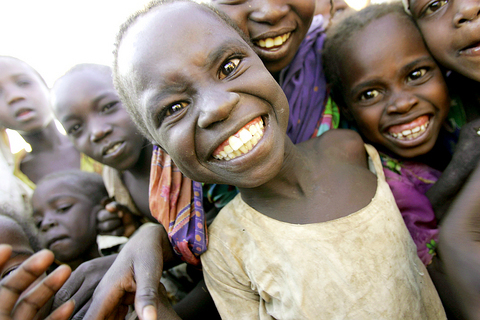 Young refugees from Sudan's Darfur ethnic conflict who have fled to Chad laugh in Djabal Refugee Camp in the eastern town of Goz Beida, Chad, on Tuesday.
PHOTO: AP
"Today we are in state of war with forces from Sudan," he said.
The eastern border region with Sudan is used by insurgents to launch attacks on government forces.
"The state of emergency will be reinforced and the military put on the highest alert," Doumgor told journalists, calling on the UN and African Union to evacuate Sudanese refugees who are in camps near the border.
Doumgor, meanwhile, claimed some refugees were working for the Sudanese government to destabilize Chad.
The Chadian plane was shot down at dawn, deputy rebel leader Ibn Oumar Achiekh said in a statement. Rebels said a helicopter was also shot down. He also claimed that 150 government soldiers were killed, hundreds injured and 90 captured during fighting on Saturday close to the eastern town of Abeche, which the rebels briefly held. Some 21 rebels were killed, Achiekh said.
On Oct. 23, a ground-to-air missile was fired at a French reconnaissance jet that was part of a military mission in support of the Chadian government. It missed and it remains unclear who fired it.
Rebels bent on toppling President Idriss Deby have clashed sporadically with the government since last year. The competition for power has become more intense since Chad began exporting oil in 2004.
The rebels have been able to exploit volatility in neighboring Sudan, establishing rear bases in Sudan's troubled Darfur region.
Besides the rebellion, Chad's government has in recent weeks reported violence pitting ethnic Arab Chadians against ethnic African Chadians, mirroring the clashes in Darfur. Chad accused Sudan of instigating the conflict.
On Tuesday, Ibrahima Fall, a special representative of UN Secretary-General Kofi Annan, described the Central African Republic as "a tragedy in the making."
Comments will be moderated. Keep comments relevant to the article. Remarks containing abusive and obscene language, personal attacks of any kind or promotion will be removed and the user banned. Final decision will be at the discretion of the Taipei Times.