Oil-rich Brunei marks sultan's 60th birthday in style
The sleepy, oil-rich nation of Brunei was abuzz with excitement yesterday as the popular sultan marked his 60th birthday with glitzy festivities and ceremonies.
Thousands of locals in this tiny nation of 350,000 people joined in the celebrations as Sultan Hassanal Bolkiah, one of the world's richest men, turned 60 in style.
Curious and excited onlookers lined the streets along with roughly 2,000 flag-waving school children to greet the arrival of the Sultan and his royal entourage at the national square for the first ceremony of the day, the inspection of the guard of honor.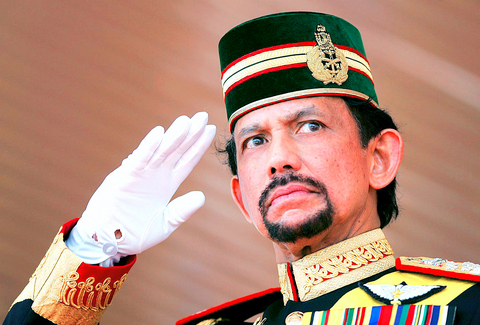 Brunei's Sultan Hassanal Bolkiah salutes the honor guard during his 60th birthday celebrations in Bandar Seri Begawan, Brunei, yesterday.
PHOTO: EPA
"We have been looking forward to this day, to celebrate our beloved Sultan's birthday together with the whole nation," said Mohammad Anuar, who had been waiting with his family to catch a glimpse of Hassanal.
Roads leading to the square were richly decorated with lights and banners, lending a festive atmosphere to the ceremony.
Dressed in an official gold-trimmed black military uniform, Hassanal conducted the inspection of some 500 military and navy officers.
Later, the Sultan delivered his annual birthday speech at the grand hall of his Nurul Iman Palace, which is the world's biggest residential palace.
Inside the majestic hall richly decorated with gold-plated pillars and large crystal chandeliers, Hassanal also announced an increase in salary and allowances for all government workers.
"To appreciate the contributions of my government workers, especially the lower ranked officers, it is with pleasure that I announce a special accelerated increment of salary for this year," he said.
The people of Brunei currently enjoy free medical services, education and housing -- and pay no taxes.
Foreign heads of states and royalty who were also present for the birthday message include Jordan's Princess Basmah Talal, Philippine President Gloria Macapagal Arroyo, Thai Prime Minister Thaksin Shinawatra, Singapore Prime Minister Lee Hsien Loong (李顯龍) and Cambodian Prime Minister Hun Sen.
Malaysian Deputy Prime Minister Najib Razak and Indonesian Foreign Minister Hassan Wirajuda also joined the thousands of guests.
The foreign guests are due later to have an audience with Hassanal.
A birthday banquet has been planned for Saturday night when more than 10,000 guests are expected to feast on local and Western food in the palace.
To end the day of festivities, a grand fireworks display -- said to have cost private sponsors close to US$200,000 -- has been scheduled.
The birthday celebrations were kicked off on July 1 in the capital, Bandar Seri Begawan, and have included a daily lineup of activities including a walkathon in which Hassanal himself participated, fireworks displays and street processions. Celebrations officially end on Aug. 18.
The government has also issued special commemorative stamps and gold coins to mark the celebrations of the Sultan, who is also Brunei's prime minister, finance minister and head of defense.
Hassanal, who ascended the throne in 1967, is the third-longest- reigning monarch in the world after Thai King Bhumipol Adulyadej and Britain's Queen Elizabeth II.
Comments will be moderated. Keep comments relevant to the article. Remarks containing abusive and obscene language, personal attacks of any kind or promotion will be removed and the user banned. Final decision will be at the discretion of the Taipei Times.