Qarase sworn in as prime minister of Fiji
BACK IN POWER The nationalist leader took his oath of office yesterday as New Zealand denied rumors it would provide a new military chief for the Pacific nation
Nationalist leader Laisenia Qarase was sworn in yesterday for a second, five-year term as prime minister of the ethnically divided South Pacific nation following his narrow election win over an ethnic Indian rival.
Qarase took his oath of office at Government House in the capital, Suva, shortly after election officials confirmed his Soqosoqo Duavata ni Lewenivanua (SDL) party won 36 seats in the 71-member parliament following May 6-13 parliamentary elections.
Qarase said earlier he also had secured written commitments of support from two independent lawmakers, which would give him a majority of 38 seats.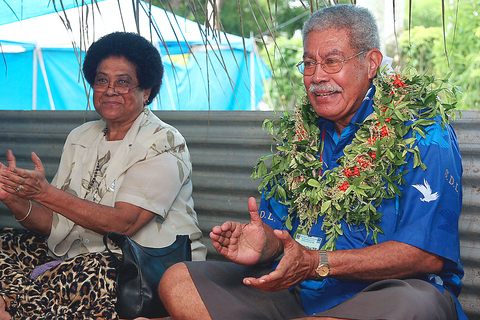 Fijian Prime Minister Laisenia Qarase, right, celebrates after claiming victory for his United Fiji Party (SDL) with backbencher Adi Litia at the ballot counting center in the Fijian capital of Suva on Wednesday. Qarase was sworn in as prime minister of the South Pacific nation yesterday.
PHOTO: AFP
The opposition Fiji Labour Party, led by former prime minister Mahendra Chaudhry, who was ousted in a 2000 coup by armed Fijian nationalists, won 31 seats in the tightly contested election. Labour has the support of two lawmakers from the allied United Peoples' Party.
"I do command the respect, loyalty and support of a majority of members of the lower house of representatives," Qarase said before the swearing in ceremony.
Qarase said he expects to swear in a new Cabinet on Monday and would offer seven Cabinet posts to the Labour Party, in line with the country's Constitution which says any party gaining more than 10 percent of the vote should be offered Cabinet positions.
The SDL will have 10 Cabinet posts and the two independent lawmakers each will also be in the Cabinet.
There was no immediate comment from Chaudhry.
Earlier yesterday, the country's military chief, who has repeatedly criticized Qarase for his moves to pardon participants in the 2000 coup, urged independents to side with Labour and accused Qarase of plotting to replace him.
"Labour will do the right thing and take away all these radical issues," Commodore Frank Bainimarama said.
He added that he had heard rumors Qarase could sack him and replace him with a New Zealand military officer.
"That is not going to happen," he said. "The Fiji military is not going to allow that."
However, New Zealand denied Bainimarama's claim.
"New Zealand has received no such request from the Fiji government and the provision of a New Zealand military commander is therefore not under consideration," New Zealand Foreign Minister Winston Peters and Defense Minister Phil Goff declared in a joint statement.
"We are very aware of the disagreement that currently exists between the Fiji military commander and the Fiji government. However this is a matter that Fijians themselves need to resolve. New Zealand would not want to take any action that would further complicate that situation," Peters and Goff said.
Fiji, a South Pacific nation of about 900,000 people, has been rocked by three coups since 1987 and there are fears the latest elections could trigger another.
Indigenous Fijians make up a small majority of the population but in recent years nationalists have become increasingly bitter at what they see as the disproportionate political and economic clout wielded by a minority of Fijians -- such as Chaudhry -- descended from Indians whose ancestors were imported by British colonialists to work in sugar cane plantations.
Qarase told reporters he was prepared to meet Bainimarama in a bid to clear the air.
"We'll need to tackle the issue as early as possible," he said. "But we hope that issue, the differences will be resolved without too much problem."
Asked if he felt threatened by Bainimarama, Qarase replied: "I don't feel threatened by anybody, only God."
Comments will be moderated. Keep comments relevant to the article. Remarks containing abusive and obscene language, personal attacks of any kind or promotion will be removed and the user banned. Final decision will be at the discretion of the Taipei Times.