Nigerian bird flu cases fuel fears
OUTBREAKS There aren't yet any confirmed human infections, but large numbers of dying chickens and discoveries of H5N1 in two more states have people on edge
Fears of a major outbreak of bird flu in Africa grew on Thursday after government officials confirmed that the deadly strain of the virus had been discovered in two more Nigerian states.
The first documented case of H5N1 bird flu in Africa was reported on Wednesday at a farm in Kaduna state, in the north of Africa's most populous country. Agriculture ministry officials said yesterday the strain had been confirmed at two farms in Kano state and one in Plateau state.
Poultry farms across northern Nigeria were quarantined yesterday as the government gave orders to cull birds at farms where there have been suspicious deaths. It promised to compensate farmers.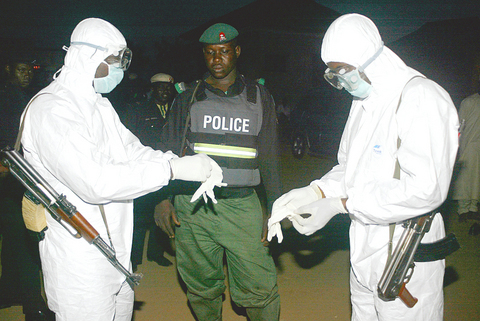 Policemen prepare to kill 168 ostriches allegedly infected with the avian flu on Thursday at the Sambawa farms in Jaji district of Kaduna State, Nigeria. The H5N1 bird flu strain spread to three more poultry farms in Nigeria on Thursday, a day after the first avian cases in Africa were reported, sparking fears of a pan-continental epidemic.
PHOTO: AFP
Chickens started dying in large numbers in northern Nigeria four weeks ago, raising fears that the virus could have spread across the country and possibly into neighboring west African states before its presence was confirmed. In recent weeks the price of chicken in the markets has plummeted as farmers have rushed to sell diseased birds.No human infections have been reported in Nigeria, but 40,000 birds died at the farm in Kaduna at which the virus was first reported.
The battery farm, which is owned by the country's sports minister, Saidu Balarabe Sambawa, had a total of 46,000 chicken, geese and ostriches. At the farm 15 concrete hangars used as chicken pens were empty yesterday and workers said all the birds had died about a month ago.
"They burned them and buried them. They didn't tell us what had happened. I heard it on the news," one farm worker told reporters.
Around 20 riot police sat in the shade of trees guarding the farm, but did not prevent journalists and villagers from walking among the buildings. Foul-smelling pits were visible at the back, and about 40 ostriches wandered around in a field. A team of government officials who visited the farm in search of human victims was unable to speak to its management.
The sports minister is attending the African Cup of Nations tournament in Egypt. Aliyu Sale, one of the officials, said: "We want to find out if it's affecting people. We have been informed that chickens are dying. Unfortunately we couldn't meet anybody and all the chickens have died already."
Nigeria has a poultry population of about 140 million. Millions of people keep chicken in their backyards. Because they lack refrigerators, most people buy chickens live and slaughter them just before cooking -- thereby increasing the risk of human infection. The World Health Organization said: "If the virus has spread to household flocks in Nigeria public information campaigns will be needed to warn populations to avoid high-risk behaviors, including the slaughtering, defeathering, butchering and preparation for consumption of diseased poultry."
Comments will be moderated. Keep comments relevant to the article. Remarks containing abusive and obscene language, personal attacks of any kind or promotion will be removed and the user banned. Final decision will be at the discretion of the Taipei Times.