Sympathy for al-Qaeda rises after airstrike
Sympathy for al-Qaeda has surged after a US airstrike devastated a remote mountain hamlet in a border region sometimes as hostile toward the Pakistani government as it is to the US.
A week after the attack in Damadola, near the Afghan border, villagers insist no members of the terror network were anywhere near the border village when it was hit. But thousands of protesters flooded a nearby town chanting, "Long live Osama bin Laden!"
Pakistan's army, in charge of hunting militants, was nowhere to be seen.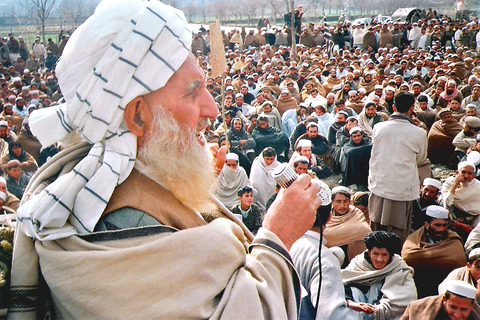 Pakistani tribesmen listen to their leader, Maulana Mohammed Sadiq, during a rally on Sunday in Inayat Qala, Bajour, along the Afghan border, to condemn the Jan. 13 US airstrike, which killed 13 civilians and possibly several top al-Qaeda operatives.
PHOTO: AP
The rally was the latest in a series of demonstrations across Pakistan against the Jan. 13 attack, which apparently targeted but missed al-Qaeda's No. 2, Ayman al-Zawahri.
The military still mans numerous checkpoints in the area, but it appears to be keeping a low profile so it will not inflame villagers still seething over the deaths of 13 civilians, including women and children, in the attack.
Pakistani intelligence officials believe that four top al-Qaeda operatives may have also been killed in the strike, including al-Qaeda's master bomb maker, Midhat Mursi.
The men had gathered for dinner on the Islamic holiday of Eid al-Adha to plan attacks for early this year in Afghanistan and Pakistan, a senior Pakistani intelligence official said.
"This attack has increased our hatred for Americans because they are killing innocent women and children,'' said Zakir Ullah, one of 5,000 demonstrators in Inayat Qala, a market town about 5km from Damadola.
"We support jihad. Jihad is the duty of every Muslim," he said.
The assault has caused friction between Islamabad and Washington and widespread outrage in this Islamic nation of 150 million, but few are as angry as the people who live in the virtually lawless tribal region that borders Afghanistan. The area is a hotbed of Taliban and al-Qaeda sympathizers.
Damadola residents deny any links to the militants.
"We don't have anything to do with al-Qaeda, and it was a cruel act of the Americans to attack my house without reason," said Bacha Khan, whose house was among the three destroyed.
A relative of Faqir Mohammed, a pro-Taliban cleric who intelligence officials believe hid the bodies of the four suspected al-Qaeda militants killed in the attack to prevent their identification, was arrested on Sunday in Damadola, a security official said on condition of anonymity because he was not authorized to talk to the media.
Pakistani authorities say they are looking for fighters who might have survived the attack, but they have not visibly stepped up maneuvers in the area.
Meanwhile, Pakistani authorities stopped a 2,000-strong convoy of hardline Islamists heading for the scene of a US missile attack, an official said yesterday.
Hundreds of armed tribal policemen erected barricades and told the protesters to return.
"We have instructions from the government that these political leaders should not be allowed to go Bajur," said Mohammed Jamil, the region's top government official.
There were no reports of violence,
but the supporters chanted slogans against Washington and the federal government.
Protesters stopped in front of the police line and began chanting "Down with America," "Down with [Pakistani President General Pervez] Musharraf," a close ally in Washington's war on terror.
Comments will be moderated. Keep comments relevant to the article. Remarks containing abusive and obscene language, personal attacks of any kind or promotion will be removed and the user banned. Final decision will be at the discretion of the Taipei Times.