Rescuers dig by hand for miners
SLOW PROGRESS Mine authorities are digging slowly to try and avoid sparking another explosion as they try to rescue 13 miners trapped about 80m below ground
Rescue teams yesterday dug slowly by hand to reach 13 coal miners trapped for nearly 24 hours, 80m underground after a methane explosion collapsed a shaft of the Sago Mine in West Virginia, officials said.
There has been no contact with the trapped miners since the explosion early on Monday, and rescuers were digging by hand to prevent sparks from heavy boring equipment setting off another methane blast, said Gene Kitts, a senior vice president of the International Coal Group (ICG) that owns the mine.
West Virginia Governor Joe Manchin said some rescue crews were moving slowly through the long tunnels that lead to the collapsed shaft, while others were busy drilling from above the accident site.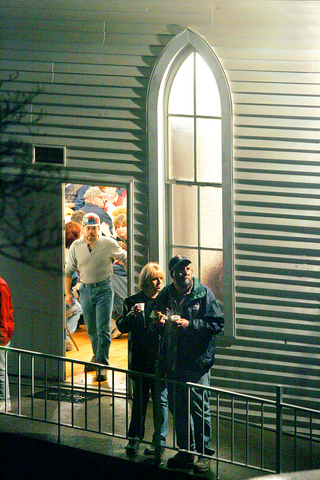 Friends and family of the 13 trapped miners gather on Monday at the Sago Baptist Church in Tallmansville, West Virginia. A coal mine explosion that may have been sparked by lightning trapped 13 miners and rescuers went in to find them after waiting almost 12 agonizing hours for dangerous gases to clear.
PHOTO: AP
"They're drilling an 18cm hole which would be for monitoring and for ventilation also," Manchin told CNN late on Monday. He said global positioning equipment was used to calculate the exact location of the trapped men.
"I believe in miracles. I'm very hopeful and I'm confident that we'll have a positive outcome," Manchin told reporters earlier. "And we'll know something soon."
Dozens of relatives of the trapped miners praying at a local church said their loved ones were trapped about 3km from the entrance and 80m below ground.
Three teams of specially-trained workers entered the Sago Mine after its shaft was ventilated for several hours to remove dangerous gases.
Lara Ramsburg, a spokeswoman for the West Virginia governor's office, said the rescue teams, eight of which were already on location near the town of Tallmansville, would work in shifts through the night to get to the trapped workers.
However, Ramsburg said she expected the operation to be a relatively long process" even under the best of circumstances."
The blast that collapsed the roof of the shaft occurred at dawn on Monday as a 13-member work crew resumed operations after the New Year's holiday, according to Roger Nicholson, another senior ICG vice president.
A second, six-member crew that was moving behind the first heard the explosion but ran into collapsed rock and decided to retreat without making contact with their trapped comrades.
Nicholson suggested that the blast may have been caused by lightning, noting that it had occurred "simultaneously with a very heavy thunderstorm in the region."
But while the exact cause of the explosion remained undetermined, occupational safety expert Ellen Smith said the Sago Mine had been cited last year for at least 13 serious safety violations, including seepage of volatile gas.
Doug Conaway, an official with the state Office of Miners' Health, Safety and Training, acknowledged authorities were aware of the safety violations, but argued they were a common occurrence throughout the industry.
"It's not unusual for an underground coal mine to be cited," he told reporters.
ICG, which went public last year, operates 11 mining complexes, of which 10 are located in northern and central Appalachia and one in central Illinois.
West Virginia, which has been a major coal mining region in the US since the 19th century, had a relatively safe year in 2005, reporting only three fatal mining accidents.
The worst mining tragedy in West Virginia's and US history occurred in 1907 in the community of Monongah, where an explosion killed 362 workers.
A similar rescue operation that was mounted near Somerset, Pennsylvania, in 2002 ended successfully, with all nine coal miners brought to the surface after more than three days underground.
Comments will be moderated. Keep comments relevant to the article. Remarks containing abusive and obscene language, personal attacks of any kind or promotion will be removed and the user banned. Final decision will be at the discretion of the Taipei Times.