Jordan beefs up security after attacks
SEARCH BEFORE SERVE Security checks, once alien to Jordanian society, are now a common sight in malls, hotels and restaurants after last week's deadly bombings
There is a new way of life in Jordan: residents now have to be searched before they will be served.
Since last week's deadly hotel bombings, metal detectors have been erected at shopping centers and restaurants and body searches and ID checks have become routine.
"I don't like it, but I'll just have to adjust and accept it," said 28-year-old shopper Roula Hijazi, who had to pass through a detector to enter Mecca Mall.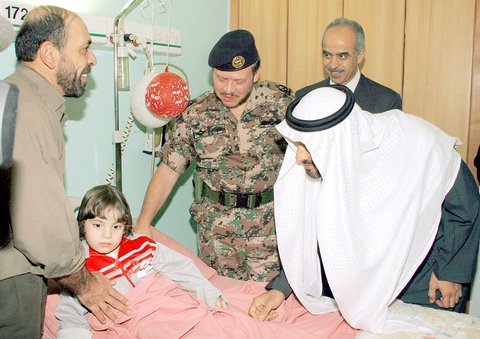 Jordanian King Abdullah, center, and Abu Dhabi Prince Apparent Sheikh Mohammed bin Zayed, right, visit victims of the terrorist hotel bombings, in Amman, on Wednesday. Sixty-two people were killed last week by Iraqi suicide bombers belonging to al-Qaeda in Iraq.
PHOTO: EPA
Jordan had prided itself on being one of the most stable and safest countries in a region racked by violence and instability. Security checks -- while normal in countries like Iraq, Lebanon and Egypt -- had been alien to Jordanian society.
But authorities say the new security measures are a necessity following the Nov. 9 triple hotel bombings that rattled this tranquil Middle Eastern country.
The death toll from the blasts rose on Thursday to 62 -- including three suicide bombers -- with the death of the mother of a bride whose wedding was devastated in the Radisson SAS bomb.
Hala al-Faroukah died of her wounds in an Amman hospital. Her husband, as well as the groom's father, were killed instantly when the Iraqi bomber blew himself up in the hotel's ballroom.
Al-Qaeda in Iraq, the terror group led by Jordanian-born Abu Musab al-Zarqawi, claimed responsibility for the attacks.
Security has been tightened around embassies, hotels and and even some upscale restaurants.
At Mecca Mall, one of Amman's biggest and fanciest shopping centers, security guards now carry out a tedious search of customers that includes metal detectors as well as a baggage and body search at the entrance.
Fares, 44, an engineer, was "not at all concerned" by the new security measures.
"I would be bothered if they were not there," he said.
Fares said he knew the metal detectors were probably not enough, especially when dealing with suicide bombers, but said, "It's better than nothing."
At the Fakhreddine Lebanese restaurant, whose clientele regularly includes VIPs, a metal detector has been installed at the entrance and security guards discreetly vet people outside.
People who are not regular clients are sometimes subjected to bag searches and may even be asked to produce identification, said manager Youssef Mekdad. As he spoke, the detector buzzed several times when clients passed through; they were not stopped.
Mekdad said he is not worried about losing clientele because of the searches.
``On the contrary, I think people feel more comfortable when they know we are not taking any risks. Many people voluntarily open their bags for a search without us asking,'' he said.
Jordanian authorities have also introduced strict security measures aimed at foreigners -- such as requiring landlords to inform the state of any non-Jordanian renters. The suicide bombers had rented apartments in Amman before carrying out the attacks.
The government has announced it is drafting the country's first anti-terror legislation, which would propose, among other things, allowing suspects to be held for questioning indefinitely.
Some have expressed concern that the measures would infringe on civil liberties and political freedoms, calling on the government to strike a balance between ensuring public safety and safeguarding civil rights.
"Our authorities must observe our treaty commitments on how far we may go to ensure the safety and security of the public and the country,'' said an editorial on Thursday in the English-language Jordan Times daily.
Asma Khader, a former Cabinet minister who served as government spokeswoman, said the extra security was meant to ensure that "what happened does not happen again and would stay in place as long as Jordan is under threat."
Comments will be moderated. Keep comments relevant to the article. Remarks containing abusive and obscene language, personal attacks of any kind or promotion will be removed and the user banned. Final decision will be at the discretion of the Taipei Times.