Kim Jong-il assures Hu on talks
BACK TO THE TABLE The North Korean leader told the Chinese president that his country would resume talks on ending the North's nuclear weapons program
North Korean leader Kim Jong-il praised China's efforts to ensure peace on the Korean Peninsula after he promised the Chinese president that Pyongyang will take part in the next round of nuclear talks scheduled for next month, news reports said yesterday.
Kim made the remarks on Friday at a banquet for President Hu Jintao (胡錦濤), who was visiting Pyongyang to lobby for progress in Chinese-organized six-nation talks on demands that the North give up its nuclear ambitions.
At a banquet on Friday evening, Kim said Hu's government was "making serious efforts to ensure peace and stability on the neighboring Korean Peninsula. We highly appreciate this," the North's official Korean Central News Agency reported.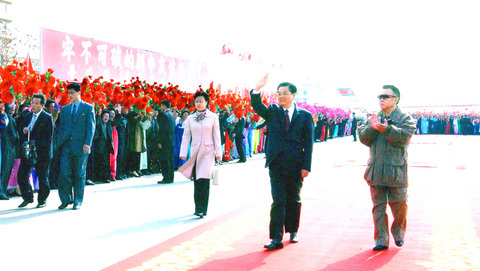 North Korean leader Kim Jong-il, right, walks beside Chinese President Hu Jintao upon Hu's arrival at the Pyongyang airport in North Korea on Friday.
PHOTO: EPA
China is under pressure from the US and other governments to use its leverage as North Korea's main aid donor to push Pyongyang for concessions in the talks. The negotiations also include South Korea, Japan and Russia.
Kim's reported comment on Friday was the highest-level commitment yet by the Stalinist dictatorship to push ahead with talks aimed at stripping North Korea of its nuclear programs.
"The North Korean side will participate as scheduled in the fifth round of six-nation talks," Chinese state TV quoted him as saying. "North Korea is committed to the denuclearization of the peninsula."
Kim told Hu that the North was committed to a nuclear-free Korean Peninsula, according to Chinese media.
Despite the polite tone, China's status as the isolated North's last major ally and aid donor gives Hu's plea special weight.
Hu is the first Chinese leader to visit North Korea since 2001.
Comments will be moderated. Keep comments relevant to the article. Remarks containing abusive and obscene language, personal attacks of any kind or promotion will be removed and the user banned. Final decision will be at the discretion of the Taipei Times.