Australia inks non-aggression pact
Southeast Asia and Australia forged a new friendship yesterday while Asia's top security forum struggled to stay relevant by expanding its mission from annual speechmaking to year-round diplomatic troubleshooting.
Australia pushed aside its past reservations about a nonaggression pact with ASEAN and signed a document of intent to join the treaty so it can be more solidly aboard efforts to create an Asian trade bloc to rival that of Europe and North America.
Australia's foreign minister joined counterparts from the 10-member ASEAN bloc and 13 other Asia-Pacific nations in Laos for the annual security-oriented ASEAN Regional Forum through tomorrow.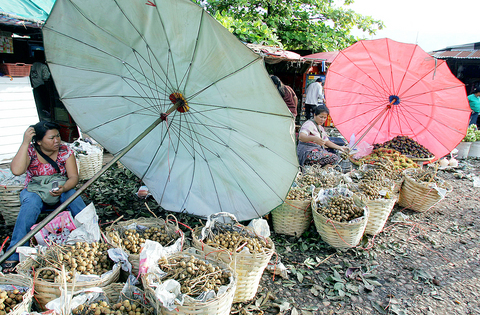 A woman and her daughter sell fruit at a local market in downtown Vientiane yesterday. Laos, one of Asia's poorest countries, is hosting the Association of Southeast Asian Nations (ASEAN) regional forum which gathers 10 ASEAN ministers and their dialogue partners including the US, China, Japan, South Korea, India, Russia and North Korea.
PHOTO: AFP
The ARF is Asia's top annual security forum, but it was getting second-tier attention this year from big players: Top diplomats from the US, Japan, China and India skipped all or part of this year's meeting, sending deputies instead.
"We see it as a coincidence. It's that they have some urgent business," said Thai Foreign Minister Kantathi Suphamongkhon. "We hope it's not a new trend."
Ministers at the conference planned to adopt a new doctrine today empowering the chairman of the forum to convene committees during brewing conflicts so that they can intervene with "preventive diplomacy," ARF spokesman M.C. Abad, Jr. said.
Malaysian Foreign Minister Syed Hamid Albar said the change has been inevitable since the ARF was formed in 1994.
"I think after 10 years, it is the correct way of moving forward ... a natural extension," Syed Hamid said. "I think it is good that it is not just simply a talk shop."
Abad said forum officials were drafting a concept paper to elaborate on giving the ARF chair the enhanced role.
Foreign ministers from the two Koreas met at a hotel in Vientiane while six-party talks continued in Beijing on efforts to end North Korea's nuclear weapons program.
Australia originally balked at joining countries such as Russia, China and India in signing the ASEAN nonaggression pact, saying it could conflict with its other treaties, including with the US.
Southeast Asian nations had urged Australia to sign the accord to help dispel their concerns over Canberra's policy asserting it has the right to attack terrorists on foreign soil if they pose a threat to Australia. That policy -- announced by Prime Minister John Howard after the 2002 Bali bombings killed 88 Australians -- drew strong protests from Indonesia and Malaysia, whose then-Prime Minister Mahathir Mohamad accused Howard of acting like a "white-man sheriff in some black country." At the six-day regional conference in Laos, foreign ministers from Australia, Indonesia and Malaysia all indicated that the issue was now defused.
"If the suggestion here is are we planning to invade our neighbors, that is a preposterous proposition," Australian Foreign Minister Alexander Downer said. "It's not an issue at all," Indonesian Foreign Minister Hassan Wirayuda agreed.
ASEAN made the pact a condition for Australia's invitation -- announced Tuesday -- for the inaugural East Asia summit in Malaysia in December among ASEAN's 10 core members plus China, Japan, South Korea and invitees New Zealand, India -- and now Australia.
The summit aims to create a trade bloc in a market encompassing half the world's population -- something Australia and the other invitees are eager to join. New Zealand, which did not share Australia's previous objections to the ASEAN pact, signed onto the treaty yesterday, as did Mongolia. Australia is to follow up its declaration of intent to join the treaty with ratification by its parliament and is expected to join by December.
Comments will be moderated. Keep comments relevant to the article. Remarks containing abusive and obscene language, personal attacks of any kind or promotion will be removed and the user banned. Final decision will be at the discretion of the Taipei Times.