African debt relief of US$31bn is announced
PARIS CLUB The plan will allow for billions to be spent on improving the infrastructure of African countries, rather than just paying off interest on loans
Rich western countries Thursday announced the biggest single debt relief in Africa's history when they unveiled a plan that will eradicate US$31bn of debt owed by Nigeria within six months.
After last-minute lobbying by Britain overcame resistance by small creditor countries, the Paris Club accepted a three-stage deal that will allow Nigeria to hire 120,000 new teachers and put an extra 3.5 million children into school.
The Paris Club is an informal group of official creditors whose role is to find coordinated and sustainable solutions to the payment difficulties experienced by debtor nations. Government ministers hailed the debt deal for Nigeria, which will provide the country with an extra US$1bn a year to spend on anti-poverty programs.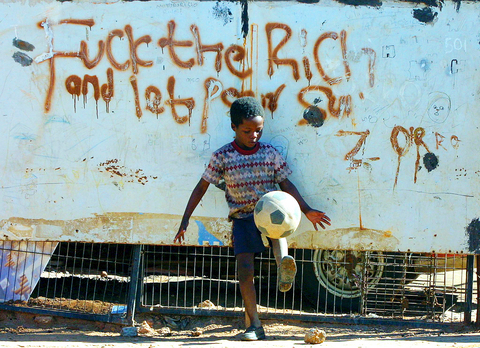 A file photo of a young boy playing soccer in front of graffiti in the township of Sandspriut, Johannesburg, South Africa last month.
PHOTO: EPA
In an interview with the Guardian, Nigeria's finance minister, Ngozi Okonjo-Iweala, said: "We are thrilled by this news. It will mean more money for roads, rural electricity, health, education and HIV/Aids."
The plan -- which will include strict economic and anti-corruption measures -- will involve the most populous country in Africa using the windfall from soaring global oil prices to wipe the slate clean from debts built up in the 1970s and 1980s. As a first step, Nigeria will pay off the US$6 billion owed in arrears to creditors. It will then receive 67 percent debt relief -- worth US$16.75bn -- on its remaining stock of debt, and finally buy back the remaining US$8.25 billion it owes at a discounted market rate.
To convince sceptical creditors that the money will be well spent, Nigeria has set up a millennium development committee -- chaired by the president, Olusegun Obasanjo -- to monitor what happens to the debt relief. The committee will include representatives from Action Aid and Oxfam.
Okonjo-Iweala said: "People harp on about corruption in Nigeria, but they should harp on more about the changes that are happening. We have shown we mean business on corruption." In addition, Nigeria has accepted intensive surveillance of its economy by the International Monetary Fund.
Britain has been championing the cause of Nigeria at the Paris Club, arguing that development in the whole of Africa is being hampered by the burden imposed on the oil-rich west African state by its legacy of debts. A report issued jointly by two think tanks -- Jubilee USA Network and the Institute for Public Policy Research -- showed a direct link between oil dependency and debts.
"Countries that produce oil tend to be poorer and less productive economically than they should be, given their supposed blessings.
This has been well documented over the last decade.
"Oil-export dependent states tend to suffer from unusually high rates of corruption, authoritarian government, government ineffectiveness, military spending, and civil war."
On past trends, Nigeria's plan to increase oil production by 160 percent would would lead to an increase of US$21 billion in its debts over the next years, the report added. Hilary Benn, the UK's international development secretary, said: "The deal will help to change the lives of millions of people in Nigeria.
"It will mean more schools, more teachers and better health services for a country which has the biggest population in Africa.
"The deal is a major step in bringing about a better future for a country in which seven million children receive no schooling at all and one in five die before their fifth birthday."
Comments will be moderated. Keep comments relevant to the article. Remarks containing abusive and obscene language, personal attacks of any kind or promotion will be removed and the user banned. Final decision will be at the discretion of the Taipei Times.