Rice makes surprise visit to Iraq
CONTINUING CHAOS The US secretary of state's visit, aimed at bolstering support for the new Iraqi government, came on the heels of fresh killings in the war-torn country
US Secretary of State Condoleezza Rice made a surprise visit to Iraq yesterday to bolster the country's fledgling government just hours after US troops announced an end to a campaign to rout insurgents near the Syrian border.
As her visit got underway, the discovery of more bodies and a new string of attacks in Iraq underlined the severity of a security situation that has seen hundreds killed this month alone.
Rice arrived in the northern Kurdish city of Arbil on a C-17 military plane from Qatar. She had flown from Washington in utter secrecy, with only a few aides informed of the trip.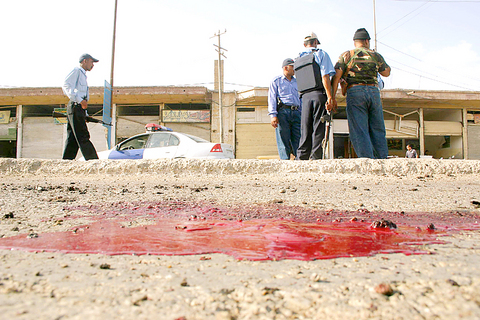 Iraqi police secure the area close the site of a car explosion, yesterday, in the northeastern city of Baquba, 60km from Baghdad. A suicide bomber struck near the courthouse in downtown Baquba, blowing himself up and killing at least four Iraqis, including a policeman, and injuring 17.
PHOTO: AFP
"I've been looking forward for some time to an opportunity to get to Iraq," Rice told a trio of reporters accompanying her on the top secret visit.
The secretary of state flew immediately to Salahuddin, near Arbil, where she was to meet with the Kurdish leader Massoud Barzani, in a convoy of Blackhawk helicopters with Apache escorts.
Rice also was slated to meet with Iraq Prime Minister Ibrahim Jaafari and senior Cabinet members at 3:00pm in Baghdad before holding a press conference.
Rice, on her first visit to the country as secretary of state, said she wanted to look at the security situation in Iraq, the political process, and Iraqi efforts to develop the country's infrastructure and economy.
She signalled concern over the lack of significant participation by minority Sunni Muslims in a new committee set up to draft a constitution, which is dominated by majority Shiites -- only two of its 55 members are Sunni Muslims.
"I think it is something that I would like to discuss with the leadership, the composition of that committee, and how they can ensure that there is participation of all Iraqis, including Sunnis, in this process."
Rice was unfazed by the wave of violence that has left 400 civilians dead since the start of the month, saying it was an attempt by insurgents to derail the political process and to respond to a major offensive launched against them by Iraqi security forces.
"To defeat them by having a political alternative that is strong," Rice said the Iraqis were now "going to have to intensify their efforts to demonstrate that the political process is the answer for the Iraqi people."
In Baghdad, the prime minister's spokesman Laith Kubba reinforced Rice's words, saying the faster the new government improves security, the faster it can ask US-led troops to leave the country.
Rice's visit came less than a day after US forces announced the end of a massive week-long sweep dubbed "Operation Matador" that had targeted militants loyal to Abu Musab al-Zarqawi, al-Qaeda's Iraq leader.
Nine marines were killed and 40 wounded in the operation in western Iraq near the Syrian border after US forces killed more than 125 insurgents and detained 39 "of intelligence value," the US military said.
Meanwhile, a British newspaper reported that Zarqawi, was wounded and treated briefly at a hospital in Iraq last week before he disappeared with his men.
The doctor who claims to have treated him told an Iraqi reporter in the western city of Ramadi that Zarqawi was bleeding heavily when he was brought into the hospital on Wednesday, the Sunday Times reported.
When the doctor treated the man's injury and asked him to register, he became agitated, the doctor said. The three men with him "politely" asked he be allowed to leave, requesting a prescription and list of medication.
Insurgents kept up a steady pace of attacks yesterday, killing six people in separate attacks around the country.
In the capital, assailants gunned down Colonel Jassem Mohammed Jomaa, an industry ministry official on his way to work and his driver, an interior ministry source said.
Municipal workers found seven bodies on Baghdad's eastern outskirts, a grisly repeat of an incident last week in which the bodies of 14 farmers were found after being taken from the eastern Sadr City market by men in police uniforms, according to witnesses.
Bombers struck twice in the insurgent stronghold of Baquba, killing at least four Iraqis and injuring 17.
Comments will be moderated. Keep comments relevant to the article. Remarks containing abusive and obscene language, personal attacks of any kind or promotion will be removed and the user banned. Final decision will be at the discretion of the Taipei Times.