British journalists acquitted, deported from Zimbabwe
Two British journalists were deported from Zimbabwe Friday after being acquitted of working without accreditation and overstaying their visas.
Toby Harnden, 35, chief foreign correspondent of the Sunday Telegraph, and Julian Simmonds, 45, a photographer with the Daily Telegraph, were due to fly to South Africa last night after a magistrate gave them "the benefit of the doubt" on the visa charge and handed them over to immigration officials.
The magistrate, Never Diza had already acquitted them on the more serious charge of working without a state license, for which they could been jailed for two years.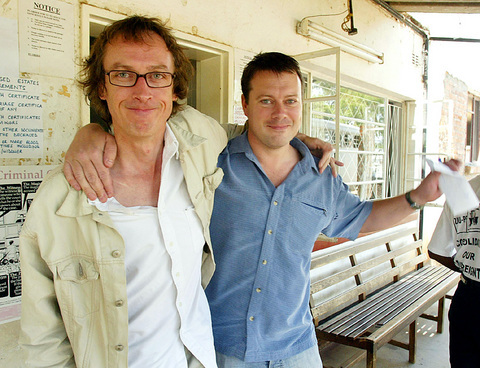 Julian Simmonds, left, and Toby Harnden, British journalists with the Daily Telegraph, leave the court in Norton, Zimbabwe, 40km west of Harare, Friday.
PHOTO: AP
"We feel pleased that justice has been done in court today. We look forward to getting back to Britain, seeing our families and getting on with our lives," Harnden said.
Outside the court the two men were hugged by well-wishers and relatives, including Harnden's parents, who flew in from Britain and were in court for the verdicts.
The two were arrested on March 31 during Zimbabwe's parliamentary elections, when Simmonds was found taking photographs at a polling station.
They spent two weeks in jail in filthy, lice-ridden cells with meagre food rations after the government refused them bail. They appeared in court in handcuffs and wearing frayed khaki shorts and shirts.
Their defense lawyer, Beatrice Mtetwa, argued that they were visiting Zimbabwe as tourists and challenged the state to prove that they had worked as journalists.
Prosecutors produced seized notebooks and a camera, but they were unable to decipher Harnden's scribbled shorthand, and Simmonds' camera did not contain any images. The state did not produce any published material by the two.
President Robert Mugabe's government has so far failed to convict any journalists under its harsh anti-press law, the Access to Information and Protection of Privacy Act (AIPPA).
"The architects of AIPPA must go back to the drawing board, because it is not working," Mtetwa said. "The state is not able to get convictions."
Comments will be moderated. Keep comments relevant to the article. Remarks containing abusive and obscene language, personal attacks of any kind or promotion will be removed and the user banned. Final decision will be at the discretion of the Taipei Times.