Democrats resolute about military records
ALLEGATIONS The Kerry campaign plans to keep asking questions, despite coming under fire for alleged contact with the man who provided dubious memos to CBS news
Democrats vowed Tuesday to keep alive questions about President George W. Bush's Vietnam-era National Guard service despite the admission by CBS that it could not authenticate documents at the center of a report on his service. But the party instead spent much of the day explaining contacts between Senator John Kerry's campaign and the former National Guard officer who gave the network the documents. \nThe political jockeying over CBS' admission marked a sharp change from a week ago, when the White House was trying to answer questions about the documents and Democrats were accusing Bush of avoiding his service requirements. \nOn Tuesday, Republicans went on the offensive and used reports that the former officer, Bill Burkett, had talked by telephone with Joe Lockhart, a senior strategist to Kerry, shortly before the CBS report, to question whether there had been collusion between the news organization and the campaign. \n"I think it is time Senator Kerry came clean about all the contacts between CBS, his campaign and Bill Burkett," Ed Gillespie, the chairman of the Republican National Committee, said on Fox News. \nMichael McCurry, a press secretary to former president Bill Clinton who recently signed on as an adviser to Kerry, told reporters traveling with Kerry that the campaign was trying to determine who in its ranks had been in contact with Burkett. \nMcCurry said that Lockhart had approached Mary Beth Cahill, Kerry's campaign manager, in the last few days to tell her that he had had a brief telephone conversation with Burkett. Cahill, he said, told Kerry, who did not think anything needed to be done in response. \nMcCurry said that he believed the only other contact was a telephone conversation between Burkett and former Senator Max Cleland of Georgia, a prominent supporter of Kerry's among veterans. Burkett and Cleland have both said that Burkett called Cleland to push for a stronger response to a group of veterans who had taken out advertisements criticizing Kerry's Vietnam service. \nBurkett told USA Today in an interview published on Tuesday that he had agreed to turn over the documents -- appearing to be from the personal file of Bush's squadron commander -- if the network would arrange a conversation with the Kerry campaign. CBS officials said they did not believe there was any such deal. But the network said Tuesday in a statement that it was against its standards "to be associated with any political agenda" and that the matter would be investigated. It also publicly rebuked the 60 Minutes producer Mary Mapes for putting Burkett in touch with Lockhart. Burkett has said that the documents were not discussed, and that he wished only to make his case for a more aggressive strategy to defend Kerry's military service. \nLockhart echoed that on Tuesday in a daylong round of interviews and appearances on cable television. In an interview, he said that Mapes called him the Saturday before Labor Day amid rumors in Washington that CBS was preparing a major report casting new criticism on Bush's Guard service. Mapes said that Burkett had been helpful and asked whether Lockhart could call him. Lockhart said he and Burkett spoke for "three minutes," during which Burkett told him he thought Kerry should give a speech "putting Vietnam in perspective." \n"I told him he wasn't the only one that thought that," Lockhart said. \nAn array of Republicans called the explanation insufficient. Dan Bartlett, the White House communications director, noted that the Democratic National Committee had started an Internet advertisement shortly after the CBS report and had also begun a campaign to press questions about Bush's service. \nLockhart and other Democrats insisted they would not be deterred from pushing questions about Bush's record.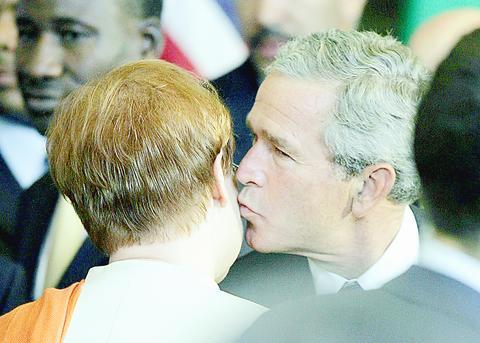 US President George W. Bush, right, plants a kiss on the cheek of Finnish President Tarja Halonen at a luncheon of world leaders on the sidelines of the 59th session of the UN General Assembly in New York on Tuesday.
PHOTO: EPA
Comments will be moderated. Keep comments relevant to the article. Remarks containing abusive and obscene language, personal attacks of any kind or promotion will be removed and the user banned. Final decision will be at the discretion of the Taipei Times.