Former Mexican leader may be charged with genocide
POLITICAL CRIMES Special prosecutor Ignacio Carrillo promised to take action in his probe of the 1971 slaying of protesters, for which the ex-president has been questioned
A special prosecutor probing past political crimes declined to answer questions as he walked out of courthouse past throngs of reporters on Thursday, in an appearance that likely signals arrest warrants against once-powerful figures in Mexico, perhaps even former president Luis Echeverria.
Prosecutor Ignacio Carrillo had promised action by today in his two-year-old probe of a 1971 slaying of protesters in Mexico City, a case in which Echeverria has been officially questioned as a suspect.
The possibility that a former president could be charged with serious crimes, perhaps even genocide, has created an uproar in Mexican politics. Echeverria's party, the country's largest, recently threatened to reduce cooperation with President Vicente Fox's government if he is charged.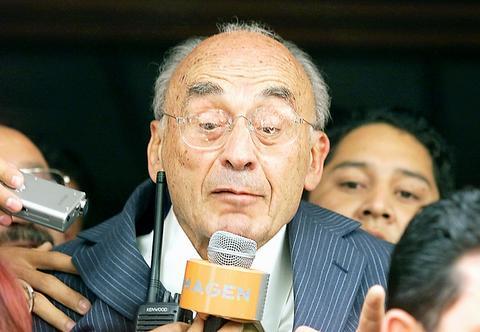 Former Mexican president Luis Echeverria makes a face as he speaks outside the offices of the special prosecutor in Mexico City in this file image from July 9. Echeverria, 82, has told prosecutors he was innocent of wrongdoing in a 1971 killing of some 26 student protesters, a case seen as emblematic of past state repression.
PHOTO: REUTERS
Reporters swarmed to the Northern Prison, where the courthouse is located, though the law usually prohibits prosecutors from announcing the names of people facing arrest warrants until they are served.
The normally talkative special prosecutor had carried a thick stack of files into the courthouse before returning to his car without fielding questions.
In a sign of the deep divisions in Mexico, Mexico's top organized crime prosecutor said on Thursday that soldiers and police involved in political crimes of the 1960s and 1970s should be pardoned.
Assistant Attorney General Jose Luis Santiago Vasconcelos told reporters that Mexico was stuck in the past -- and that some leftist activists were playing politics with the past-crimes charges.
"Why go back to an investigation that, after so much time, will not go anywhere?" said Santiago Vasconcelos, arguing that the statute of limitations had run out on the crimes.
"Mexico has historically been stuck, because we always look to the past, and we never look to the future," Santiago Vasconcelos said, calling for "a national reconciliation" and amnesty.
"It appears to me petty that those who got the same kind of amnesty in 1978 from the Mexican government are now seeking political or personal benefit" by calling for prosecutions, he said. "It's inconceivable that someone who got a generous pardon ... will not even discuss the same treatment for others."
He was referring to amnesty for the radical guerrilla movements that attacked military and civilian targets, kidnapping, killing and robbing banks.
"Can you try the person who planted three bombs, or ambushed and killed 10 soldiers, or killed 10 people? No," he said.
Santiago Vasconcelos denied allegations that the administration of President Vicente Fox was considering a pardon, in return for support from Echeverria's Institutional Revolutionary Party, or PRI, for Fox's economic reforms.
Comments will be moderated. Keep comments relevant to the article. Remarks containing abusive and obscene language, personal attacks of any kind or promotion will be removed and the user banned. Final decision will be at the discretion of the Taipei Times.