Sudan warns US, UK to stay out
ETHNIC CONFLICT Hours after the US Congress passed a resolution declaring that the strife in Sudan was genocide, Khartoum told Western countries to stay out of its affairs
Sudan warned Britain and the US on Thursday not to interfere in its internal affairs after Prime Minister Tony Blair said he had not ruled out military aid to help combat the crisis in Darfur.
The US circulated a draft UN resolution threatening sanctions against Sudan's government if it did not prosecute Arab militia leaders in the western region accused of ethnic cleansing against black Africans in Darfur.
Adding to the pressure, the US Congress on Thursday passed a resolution declaring that genocide was taking place in Sudan.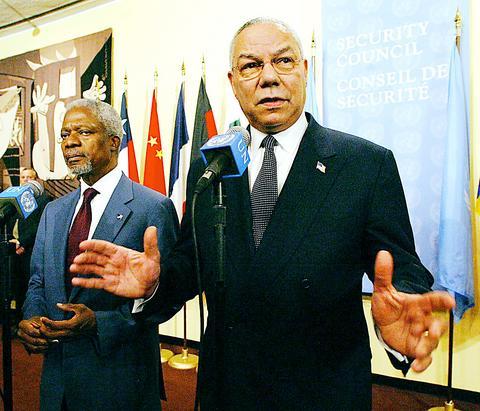 US Secretary of State Colin Powell, right, and UN Secretary General Kofi Annan talk to the media about their meeting on the situation in the Sudan outside of the Security Council at UN Headquarters in New York City on Thursday.
PHOTO: EPA
"We don't need any [UN] resolutions. Any resolutions from the Security Council will complicate things," Sudanese Foreign Minister Mustafa Osman Ismail said on a visit to Paris.
"[This] pressure closely resembles the increased pressure that was put on Iraq [before the war]," he said.
US Secretary of State Colin Powell, in New York to confer with UN Secretary-General Kofi Annan on how to deal with the crisis, rejected Sudan's complaints, and said he expected a positive vote on the UN resolution.
Asked whether it made sense to pressure Khartoum to disarm the Janjaweed militia it had armed in the first place, Powell said: "Since they turned it on, they can turn it off."
Facing what the UN calls the world's worst humanitarian crisis, Blair said the world needed to act.
"We have a moral responsibility to deal with this and to deal with it by any means that we can," Blair said, adding that he had not ruled out the possibility of military assistance.
Rebel groups launched a revolt in February last year in the east of the oil-producing country after long conflict between Arab nomads and black African farmers. Sudan denies supporting the Janjaweed militias who are attacking black Africans.
ARMS EMBARGO
The draft Security Council resolution, which does not define the sanctions, also advocated an immediate embargo on weapons funnelled to the Janjaweed and any other armed group in Darfur.
The US Congress urged President George W. Bush to seek a tougher UN resolution authorizing a multinational force to protect displaced people and humanitarian workers, creating a commission to investigate crimes and setting up a process to resolve grievances between Darfurians and Khartoum.
Annan said opposition to the proposed resolution appeared to have died down in the council, where Europeans had sided with the US while Russia, China, Pakistan and others had qualms about undue pressure on Sudan.
"The reactions were quite positive," Annan said. "My sense is that it will be successful." Powell said the resolution would pass if a vote was held.
Ismail said he did not understand why Britain and the US were increasing pressure on Sudan. Annan said the meddling would stop when Sudan began to take action.
The UN estimates that the 15-month conflict has killed at least 30,000 people and displaced more than a million.
In agreement with Annan, Sudan has pledged to protect displaced civilians, disarm militias, lift travel restrictions on aid workers and punish those responsible for atrocities.
Seven men convicted of belonging to the Janjaweed were sentenced in a Darfur court to punishments ranging from execution and crucifixion to amputation and imprisonment, a statement from the presiding judge said on Thursday.
TROOPS TO SUDAN?
Police arrested 100 Janjaweed in recent clashes, official sources said, but a source at an international organisation in Sudan said they may have been petty looters made scapegoats.
Britain's Guardian newspaper reported that Blair was considering sending troops to Sudan to help distribute aid, lend logistical support to an African Union (AU) protection force or protect refugee camps from marauding militias.
"We rule nothing out, but we are not at that stage yet," Blair told reporters in London. His foreign secretary, Jack Straw, said he would visit Sudan, possibly Darfur, next month.
Straw said he was pushing EU members to take action, funding the AU mission, or sending a "joint civilian military team" as backup. He said it would not be a British military operation.
Khartoum has agreed to the deployment of 270 AU troops to protect 60 AU observers who will check violations of a shaky ceasefire signed between the government and rebels in April.
Comments will be moderated. Keep comments relevant to the article. Remarks containing abusive and obscene language, personal attacks of any kind or promotion will be removed and the user banned. Final decision will be at the discretion of the Taipei Times.