Troops will go to Iraq, says Seoul
South Korea will not backtrack on plans to send 3,600 troops to Iraq or follow Spain's footsteps by threatening a pull out, a senior official said yesterday as the government tried to quell allegations it is dragging its feet on the divisive mission ahead of hotly contested parliamentary elections. \nSouth Korea became the latest US ally in Iraq to re-examine sending troops to an increasingly violent peacekeeping effort last Friday, when it scrubbed plans for a mission to the Iraqi hotspot of Kirkuk. \nSouth Korea has promised to eventually dispatch the 3,600 troops earmarked for Iraq, but only after it finds a location where they won't have to perform offensive missions. The Kirkuk decision came after Spain announced it may pull out its troops and Poland said it was "misled" about the US-led war. \n"One of our concerns is that by changing the location, we may give the wrong impression to the public and friends that South Korea may backtrack on the commitment," the senior government official said on condition of anonymity. \n"We have to make clear we are not moving in that direction. We will abide by our commitment," he said. "Some people harbor the notion that South Korea might be following the suit of Spain. That's completely untrue." \nThe troops, to include special forces and marines, were to take complete control of relief and security needs in the region around Kirkuk, some 290km north of Baghdad. \nBut the plans were scrapped because the US military wanted to keep a contingent in the area under South Korean command that would continue raids and other offensive missions. That would be contrary to a South Korean parliamentary mandate restricting the troops to peacekeeping and reconstruction efforts. \nThe US is preparing several alternative locations for South Korean troops to secure, and Seoul will review them before making a decision, the official said. Najaf, the southern Iraqi town where Spanish troops currently operate, is one possibility, but the official declined to name other potential locations. \nThe new selection process will push back the planned April dispatch. The official would not say how long the delay would last, but denied domestic politics was playing into the decision. \nPresident Roh Moo-hyun, who supports the deployment, was impeached for unrelated reasons earlier this month, and the nation faces nationwide elections on April 15. Some had speculated that any casualties sustained by South Korean troops before the polls could tip the outcome. Others have suggested that a major upheaval in the National Assembly's makeup could impact its backing for a mission that is unpopular with the South Korean public. \nSending 3,600 troops would make South Korea the biggest coalition partner after the US and Britain. About 460 South Korean medics and military engineers have been in the southern Iraqi town of Nasiriyah for almost a year, and will come home when the new dispatch is made. \nThe government says sending troops will help win Washington's backing for a peaceful resolution of the North Korean nuclear-weapons crisis. South Korea's 650,000-member military is backed by about 37,000 US troops in facing off against North Korea.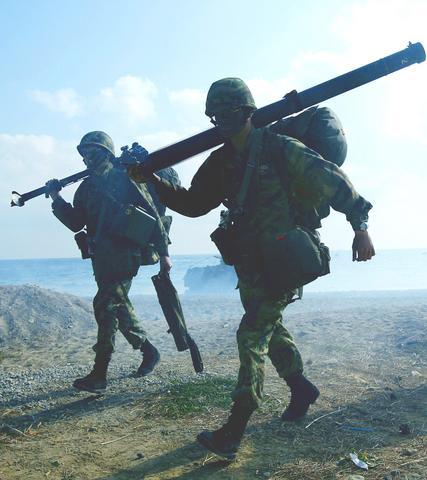 South Korean marines in full kit run during a joint landing exercise yesterday with US forces in Pohang, some 370km southeast of Seoul. South Korea and the US are conducting the joint landing exercise from March 22 to March 30.
PHOTO: REUTERS
Comments will be moderated. Keep comments relevant to the article. Remarks containing abusive and obscene language, personal attacks of any kind or promotion will be removed and the user banned. Final decision will be at the discretion of the Taipei Times.