Thaksin calls on Thais to eat chicken
FINGER LICKIN` The prime minister, who said he used to work for KFC, promised he would pay anyone who dies from eating well-cooked chicken produce 3 million baht
Thailand's prime minister yesterday urged people to eat chicken and eggs as the country's billion dollar export industry dwindles, pledging 3 million baht (US$75,000) of his own money in compensation if anyone dies from eating well-cooked chicken products.
The EU, Japan and other major markets have banned Thai chicken products following the outbreak here, which has killed two people in Thailand, both children, and sickened one other person who has been hospitalized.
Thailand has identified 12 suspected cases, including seven people who have died.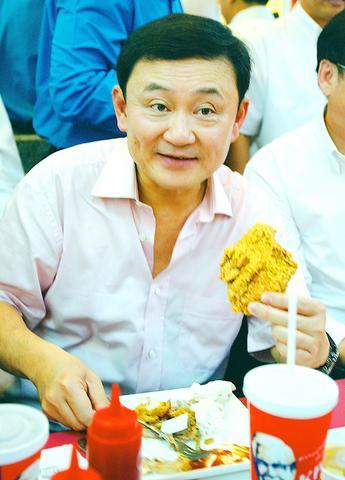 Thai Prime Minister Thaksin Shinawatra eats a chicken wing at a Kentucky Fried Chicken restaurant in Bangkok on Jan. 31. As a deadly bird flu virus appeared to be spreading toward Thailand's southern tourist hot spots, Thaksin urged Thais to eat chicken, saying cooked poultry was perfectly safe.
PHOTO: REUTERS
Thailand exported about 500,000 tonnes of chicken worth 52 billion baht (US$1.3 billion) last year, but faces significant losses this year because of the crisis.
"If Thais don't eat chicken and eggs, there'll be a lot of trouble," Thaksin Shinawatra said in his weekly radio address to the nation. He said that cooked chicken meat was "100 percent safe" and would prove it by eating it publicly at every opportunity.
Later yesterday, Thaksin, Public Health Minister Sudarat Keyuraphan and city officials dropped by a KFC chicken fast food outlet where the prime minister lunched on a drumstick, leg and thigh.
"This is good. You must lick every one of your fingers when you eat chicken ... I'm eating KFC because I know they cook chicken meat well. I used to work for KFC when I was studying in the States," said Thaksin, who studied criminology in Kentucky.
"I will pay 3 million baht to anyone who dies after eating hard boiled eggs, fried eggs, omelets or any well-done chicken," the billionaire leader said in his radio speech. Those who caught the disease and survived would be paid compensation on discharge from hospitals.
Despite the flu's impact, Thaksin said economic growth this year will "definitely be near 8 percent," adding that the disease will cause less damage to the economy than last year's SARS epidemic which battered the country's high-flying tourism industry.
But he acknowledged that the flu had hurt the Thai stock market, the world's No. 2 top performer last year after Brazil. The Stock Exchange of Thailand index has fallen nearly 13 percent from the year's peak.
Fast food chains and restaurants have reported drops in sales of chicken dishes, while the national carrier, Thai Airways International, announced yesterday it was taking chicken off its inflight menus.
Thaksin and his government are facing mounting criticism for allegedly covering-up the disease which may have been detected by livestock officials as early as November but hushed up for fear of damaging exports.
Comments will be moderated. Keep comments relevant to the article. Remarks containing abusive and obscene language, personal attacks of any kind or promotion will be removed and the user banned. Final decision will be at the discretion of the Taipei Times.