Koizumi pays surprise visit to Yasukuni shrine
CONTROVERSIAL The Japanese prime minister's visit to the shrine for the country's war dead will probably provoke an angry response from China
Japanese Prime Minister Junichiro Koizumi made a surprise New Year visit to the controversial Yasukuni Shrine commemorating the country's war dead in Tokyo yesterday.
The move, likely to provoke an outcry from China and other nations who suffered from Japan's war-time aggression, came as Tokyo is in the process of sending military personnel to Iraq despite fierce opposition at home.
Dressed formally in "hakama" pleated skirt and traditional "kimono" bearing his family crest, Koizumi walked solemnly into the shrine, which was surrounded by hundreds of well-wishers to mark the New Year's Day.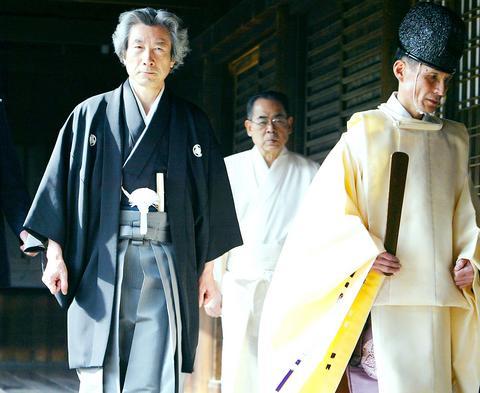 Japanese Prime Minister Junichiro Koizumi, left, is led by a Shinto priest during a visit to the controversial Yasukuni shrine in Tokyo, yesterday.
PHOTO: REUTERS
He bowed deeply at the main chamber before being escorted inside by a Shinto priest and spent a few minutes paying his respects out of sight from the media.
"I prayed for peace and prosperity in Japan ... which has been built based on the people who lost their lives against their will during the war," Koizumi said.
Defending the visit to the war shrine, he said: "No country interferes in other countries' respect for history, tradition, custom. Since I am visiting here every year, I hope to gain understanding gradually."
Honoring 2.5 million Japanese war dead, Yasukuni is widely seen as a symbol of Japan's former militarism, particularly since 1978 when it enshrined 14 Class-A war criminals, including wartime prime minister General Hideki Tojo.
Koizumi is only the third prime minister since 1978 to visit the shrine adjacent to the Imperial Palace.
It was Koizumi's first visit to the shrine on a New Year's Day, the nation's most important national holiday, since he took office in 2001.
The nationalist premier has pledged to make a pilgrimage once a year to "dedicate on peace" but has avoided visiting there on sensitive days such as Aug. 15, the anniversary of the end of World War II.
Commenting on the reason for visiting the shrine on New Year's Day, Koizumi said he followed "Japanese tradition," adding: "I had been wondering when I should visit. I made the decision today and it was a good choice."
Koizumi made his third trip on Jan. 14 last year, drawing harsh criticism from China, South and North Korea, and other nations.
As recently as October, China reiterated that it was "difficult to understand" Koizumi's repeated remarks that he planned to continue visiting the Tokyo shrine.
"China-Japan relations are in an important period of development. We find the Japanese leader's recent comments difficult to understand," Chinese foreign ministry spokeswoman Zhang Qiyue said.
The move may further delay the restart of mutual visits by the two countries' leaders, which were suspended after Koizumi's previous visits to the shrine between 2001 and last year.
The visit may also fuel criticism against Japan's dispatch of troops to Iraq.
An advance party from Japan's military contingent left for the Middle East on Dec. 26 to set the stage for a humanitarian mission in the war-torn nation, Tokyo's most dangerous deployment of personnel since World War II.
Comments will be moderated. Keep comments relevant to the article. Remarks containing abusive and obscene language, personal attacks of any kind or promotion will be removed and the user banned. Final decision will be at the discretion of the Taipei Times.