Militant groups open to truce with Israel
Palestinian militant groups have said they are willing to consider entering a mutual truce with Israel, a deal that could pave the way for renewing long-stalled peace talks.
Meanwhile, Israeli troops killed two Palestinians -- one armed and the other a 55-year-old civilian -- during an operation to arrest a weapons smuggler in the Rafah refugee camp in the Gaza Strip, the army and Rafah residents said.
Despite the ongoing violence, Palestinian militant groups -- including Hamas and Islamic Jihad -- signaled a willingness Saturday to halt suicide bombings and other attacks if Israel stops its military operations in the West Bank and Gaza Strip, Palestinian Foreign Minister Nabil Shaath said.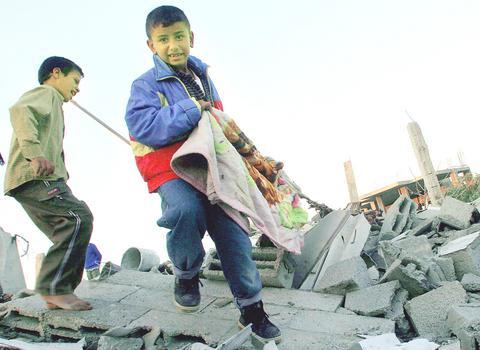 Palestinian boys remove items from the rubble of a destroyed house in the Rafah refugee camp, southern Gaza Strip, yesterday. A house was destroyed and an a man was killed during an Israeli military operation in Rafah Saturday night.
PHOTO: AP
Israel, however, has not said whether it would agree to such terms, and Hamas spiritual leader Sheik Ahmed Yassin ruled out an immediate end to attacks.
"We have no objection to any dialogue with the [Palestinian] prime minister," Yassin said Saturday. "We are willing to listen to any proposal. We will give him answers ... but in the current situation, we can't talk about any ceasefire."
A truce in three years of fighting is seen as key to revitalizing talks on the US-backed "road map" peace plan, which stalled amid violence and Palestinian political crises. A ceasefire could strengthen new Palestinian Prime Minister Ahmed Qureia. An earlier truce -- hammered out by his predecessor -- collapsed over the summer in a fresh wave of bloodshed.
Qureia and Israeli Prime Minister Ariel Sharon have been preparing for a possible summit in the coming days to discuss the road map, which envisions the formation of a Palestinian state by 2005.
"There will be an effort in our meetings with the Israelis to obtain the commitments for reciprocity," Shaath said.
Raanan Gissin, a Sharon adviser, declined to say explicitly if Israel would join a truce.
"If the Palestinian Authority will take the necessary steps to bring terror under control, we will respond positively to that and there will be no need for our military operations," Gissin said.
Israel has previously demanded the Palestinians follow any ceasefire with a crackdown on militant groups, as called for under the road map. Qureia says he will not clamp down on those groups, but instead prefers to use persuasion to end the attacks.
Ahead of a summit, Egyptian intelligence chief Omar Suleiman -- who has helped mediate past truce deals -- was to arrive in the region Monday to assist Qureia in talks with the Palestinian factions. Suleiman was to meet Qureia and veteran Palestinian leader Yasser Arafat today. It was unclear if he would also meet Hamas and Islamic Jihad leaders.
"Without a doubt he will come with many ideas," Arafat said. He called on all Palestinian factions to enter ceasefire talks.
In Gaza, Israeli troops surrounded the home of Bassam Abu Libdeh -- a well-known weapons runner in the Rafah refugee camp -- before dawn Sunday. The soldiers called on Abu Libdeh and his family to leave the house. His wife and children left, but Abu Libdeh holed up inside, sparking a gun battle with the troops, residents said.
Comments will be moderated. Keep comments relevant to the article. Remarks containing abusive and obscene language, personal attacks of any kind or promotion will be removed and the user banned. Final decision will be at the discretion of the Taipei Times.