Fog, drizzle slow California blazes
Fog and drizzle came to the rescue of firefighters laboring to save resort towns in Southern California from the raging wildfires that have killed at least 20 people. \n"It is helping, but it is a long way from putting any fires out," said Ray Snodgrass, chief deputy director of the California Forestry Department. "It's the respite we were hoping for." \nThe forecast, however, also called for gusting winds that could drive the flames into more homes. \nFirefighters dug in to protect hundreds of homes still threatened in San Bernardino and San Diego counties. But only a few hundred hectares of thick forest were burned overnight by one of the most devastating and erratic of the fires -- a 20,000-hectare blaze east of Lake Arrowhead in the San Bernardino Mountains. \nThe wildfires have blazed for more than a week across Southern California, destroying more than 2,600 homes and blackening around 292,000 hectares. On Thursday, seven major fires were still burning in four counties. \nOn Thursday morning, the fire had advanced to within 19km of the mountain resort town of Big Bear as crews spread fire-resistant gel on houses and cleared debris around them. They were helped by a heavy fog that rolled in overnight. \nThe forecast called for highs of about 13?C, down from more than 38?C over the weekend. \nHomeowners in Big Bear and other evacuated areas faced yet another concern Thursday -- looting. Sheriff's deputies arrested four people, two of them in the act, said Sergeant Brooke Wagner of the San Bernardino County Sheriff's Department. \nIn San Diego County, where the state's largest fire killed a firefighter on Wednesday, many of his comrades wore black bands on their badges. Steve Rucker, 38, died while battling a blaze that has burned more than 270,000 acres and some 1,500 homes. He was the first firefighter to die in this outbreak of fires. \nA blaze of more than 40,000 hectares on the line between Ventura and Los Angeles counties was winding down, with cooler weather and high humidity helping firefighters knock down the flames that had come within a few meters of homes. \nIn all, nearly 12,000 firefighters and support personnel were fighting what Governor Gray Davis said may be the worst and costliest disaster California has ever faced.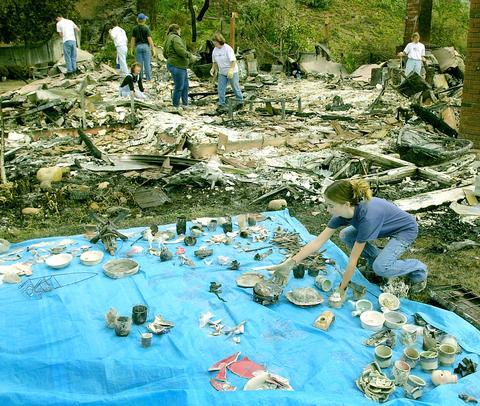 Clair Shalinsky, 12, sorts through items salvaged from her family's burned home in the Scripps Ranch area of San Diego, California, on Thursday. The home was among more than 1,400 lost in the area.
PHOTO: AP
Comments will be moderated. Keep comments relevant to the article. Remarks containing abusive and obscene language, personal attacks of any kind or promotion will be removed and the user banned. Final decision will be at the discretion of the Taipei Times.