Bush officials defend rationale for Iraq war
QUESTION OF INTELLIGENCE Condoleezza Rice and Colin Powell hit the political talk shows on Sunday to deny using outdated information about Iraqi weapons
The Bush administration has disputed assertions by leaders of the House intelligence committee that the US went to war in Iraq on the basis of outdated and vague intelligence.
Senior US officials said that pre-mise would have assumed a dramatic change in behavior by former Iraqi president Saddam Hussein -- the elimination of Iraq's weapons of mass destruction (WMD) since the departure of UN inspectors in 1998.
"I just don't think that was plausible," National Security Adviser Condoleezza Rice said on Fox News Sunday.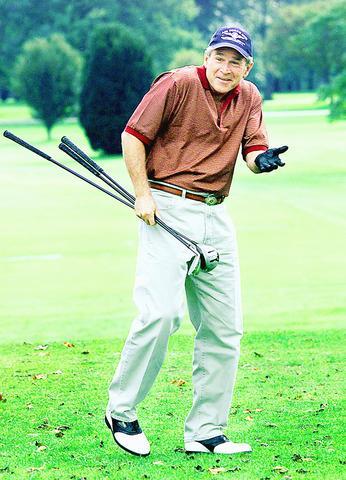 US President George W. Bush played golf at Andrews Air Force Base Golf Course in Maryland on Sunday, the same day administration officials insisted there was new intelligence obtained before the Iraq war about Baghdad's weapons programs.
PHOTO: REUTERS
The White House defended Pres-ident George W. Bush's US$87 billion request for rebuilding Iraq.
The administration's early estimate of the cost was about US$60 billion and a former Bush adviser was chastised for mentioning figures as high as US$200 billion. The requested US$87 billion would be in addition to US$59 billion already spent.
"We did not have perfect foresight into what we were going to find in Iraq," Rice told NBC's Meet the Press.
"The fact of the matter is ... this deteriorated infrastructure, one that was completely covered over by the gleaming pictures of Baghdad that made it look like a first-world city," she said. "The key here is that you could -- cannot put a price tag on security."
From Bush on down, US officials made the case that war was necessary to remove the Iraqi president because of Iraq's stockpiles of illegal arms, including chemical wea-pons capable of use against approaching US soldiers.
But leaders of the House intelligence panel said in a letter last week to CIA Director George Tenet that those claims resulted largely from fragmentary and circumstantial evidence filled with uncertainties. The Washington Post reported on Sunday on the letter from Porter Goss and Jane Harman, the Republican chairman and ranking Democrat on the committee.
CIA spokesman Bill Harlow denied the allegations.
"The notion that our community does not challenge standing judgments is absurd," he said Saturday in a statement.
Neither US troops nor a CIA team led by former UN chief inspector David Kay have reported finding any WMD.
The letter reportedly cited "significant deficiencies" in the intelligence agencies' ability to collect fresh intelligence on Iraq after UN weapons inspectors left in 1998.
"There was enrichment of the intelligence from 1998 over the period leading up to the war," Rice said.
"Nothing pointed to a reversal of Saddam Hussein's very active efforts to acquire weapons of mass destruction ... It was very clear that this had continued and that it was a gathering danger," she said.
Secretary of State Colin Powell cited Saddam's use of poison gas against Kurdish civilians -- 5,000 died -- to put down unrest in 1988.
"Now, if you want to believe that he suddenly gave up that weapon and had no further interest in those sorts of weapons, whether it be chemical, biological, or nuclear, then I think you're -- it's a bit naive to believe that," Powell said on ABC's This Week.
Powell urged Congress to approve the Iraqi money.
Comments will be moderated. Keep comments relevant to the article. Remarks containing abusive and obscene language, personal attacks of any kind or promotion will be removed and the user banned. Final decision will be at the discretion of the Taipei Times.