UN to acknowledge Iraqi council
The UN Security Council was set yesterday to acknowledge but not formally recognize Iraq's interim government, as a message attributed to ousted dictator Saddam Hussein called on Iraqi Shiites to wage holy war against the US-led occupation.
The US promised to produce proof of Iraq's efforts to develop banned nuclear, biological and chemical weapons, while gunmen claiming links to al-Qaeda left calling cards at the scene of a deadly shootout with US troops.
Security Council members were scheduled to vote on a US resolution that acknowledges but does not formally recognize Iraq's interim administration, diplomats said Wednesday.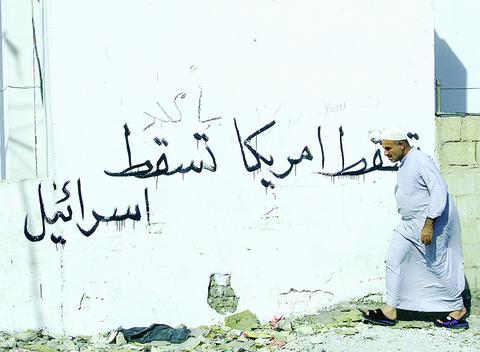 An Iraqi Shiite passes by a wall with graffiti reading ``down to America, down to Israel'' in al-Sadr, a northern predominantly Shiite suburb of Baghdad, on Wednesday.
PHOTO: AFP
The original US draft put to the other four permanent members of the council for consultation had proposed saying that UN members "endorse" the Governing Council of Iraq set up by the US and Britain.
But some diplomats said this gave too much legitimacy to the Baghdad administration. According to a copy of a new draft, the Security Council will only say that it "welcomes" the new administration.
John Negroponte, the US ambassador to the UN, accepted the change and requested a vote, the sources said.
"To say `endorse' would not have been passed," said one senior representative from a Security Council member country.
Iraq has been at the center of more than a year of battles at the UN with Britain siding with the US in deciding that Saddam was a major threat, while the other permanent members -- China, France and Russia -- said military action was not necessary.
Part of the dispute centered around the threat posed by Saddam, with Washington and London insisting his pursuit of banned weapons required immediate action.
In Washington, US Secretary of State Colin Powell said investigators were steadily uncovering evidence that the former Iraqi leader did indeed have weapons of mass destruction and that it would be released to convince a skeptical world.
Powell said David Kay, the CIA official overseeing the search for Iraqi arms, would produce solid evidence proving President George W. Bush and other US officials "knew what we were talking about" when they accused Saddam of possessing banned weapons.
"David Kay, who is in charge of the research effort, has reported to us recently that more and more information is coming forward as he is able to read all the documents that he's captured and as he is able to interview people who were involved in these programs," Powell said.
"And as he assembles this information and is in a position to present it, I think the people of the world will see that the United States and other nations who felt as we did knew what we were talking about."
Meanwhile, Qatar-based Al-Jazeera television aired the tape attributed to Saddam calling on Iraq's top Shiite Muslim religious authority, to "proclaim jihad so that all the Iraqi people are united against the occupation."
It also praised a top Shiite leader, Grand Ayatollah Ali Sistani.
Sistani is viewed by US officials as a crucial force for moderation in postwar Iraq. But he has voiced unease at the occupation and opposed plans for a US-backed interim Governing Council to draw up a new constitution for Iraq.
"Sayyed Sistani has our respect," the message read, using the title for a descendant of the prophet Mohammad.
In Baghdad, calling cards touting a link to al-Qaeda were found at the scene of a deadly shootout with US troops, as an Iraqi boy was killed in the first clash between US forces and Shiite Muslims in the capital.
Two US soldiers were also killed in a pair of roadside bombs targeting military convoys north of Baghdad, the US military said.
Several business-card-size leaflets were found at the scene of the 7pm firefight in downtown Baghdad, bearing the words "Death to the collaborators of America -- al-Qaeda."
Comments will be moderated. Keep comments relevant to the article. Remarks containing abusive and obscene language, personal attacks of any kind or promotion will be removed and the user banned. Final decision will be at the discretion of the Taipei Times.