Short-list announced for Taiwan's best innovators
LEADING EDGE Inaugurated eight years ago, the Prestigious Symbol of Excellence Awards select and promote Taiwan's most promising products and product designers
Taiwan's top trade promotion agency announced yesterday the 24 finalists for this year's most prestigious product recognition campaign, with products from the information technology industry grabbing more than half of winners.
Organized by the China External Trade Development Council (CETRA, 外貿協會), the Symbol of Excellence (SOE, 國家產品形象獎) Awards campaign was launched eight years ago as part of the council's mission to upgrade the design, innovation and quality of local products. According to CETRA, it is the most prestigious product recognition program in Asia.
Products are judged on five criteria including quality and durability, product design, innovation/research and development; market position and brand awareness.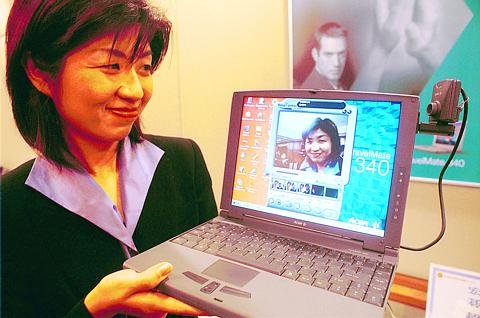 A public relations representative from the Acer Group demonstrates a new innovative notebook computer at the press conference held by the Board of Foreign Trade to announce the 24 finalists in the Prestigious Symbol of Excellence Awards in Taipei.
PHOTO: CHEN CHENG-CHANG, TAIPEI TIMES.
Sixteen of the 24 product finalists came from the IT industry, with the Acer Group garnering 7 final spots including the world's first notebook PC with built-in fingerprint verification system by Acer Incorporated (宏電).
David Tsai (蔡政儒), a marketing manager of Acer Inc also indicated that the company had developed the world's first notebook PC with ten-hour battery power supply capacity.
Other finalists in computing included ASUSTek Computer Inc (華碩電腦) in motherboards and PC and D-Link Corporation in ISDN servers. Also, Startek Engineering Inc's (星友科技) fingerprint verification/control system and a multifunctional optical office application device by Plustek Inc (精益科技) received much attention.
Finalists outside the IT industry included robotic machinery innovator Plenty Island Corp (和椿事業) showing robots using the first plug and play control systems with single axis and multi-axis motion, bicycle industry leaders Merida (美利達工業) showing a dual suspension mountain bike with a "dual knuckle" suspension and Giant (巨大機械工業), showing their own dual suspension cross country bicycle.
Three finalists in traditional industries that were listed for the first time included Advantage Screwdriver Automatic Enterprise Corporation (品股份有限公司) with a line of ergonomically designed, easy to clean screwdrivers and Taiwan Sukura Corporation (台灣櫻花) for a turbo stove hood.
"To maintain international competitiveness, it is crucial to become world class trendsetters by developing continuously re-innovated products that are followed by other world players," said SOE judge Bai Su-ching.
Addressing the significance of adding value to products, Bai cited Hollywood films and Japanese icons of Hello Kitty and Pokemon pocket monsters, international brands that have achieved global success among the younger generation.
"Taiwanese small- and medium-sized industries needs to survive by continuous innovation and transformation and by upgrading their international competitiveness," said Lin Ing-feng (林英峰), chairman of Symbol of Excellence Judges Committee and veteran judge for SOE.
Comments will be moderated. Keep comments relevant to the article. Remarks containing abusive and obscene language, personal attacks of any kind or promotion will be removed and the user banned. Final decision will be at the discretion of the Taipei Times.