Library to launch Sinology center
The National Central Library on Wednesday launched the Taiwan Resource Center for Chinese Studies at Israel's Tel Aviv University.
The library said that it is the first such center it has established in the Middle East.
The library selects key universities or research institutes abroad to establish the centers, National Central Library Director-General Tseng Shu-hsien (曾淑賢) said.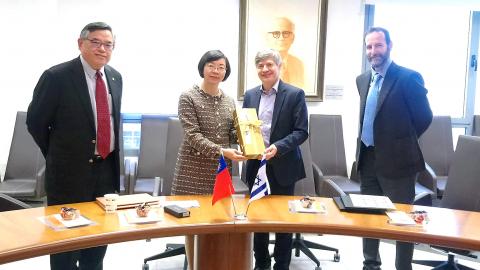 National Central Library Director-General Tseng Shu-hsien, second left, and Tel Aviv University vice president Raanan Rein, second right, pose for a photograph at the National Central Library in Taipei yesterday.
Photo courtesy of the National Central Library
The centers aim to strengthen cooperation with Sinology research units overseas; promote academic exchanges in the field of Sinology in Taiwan and abroad; and spread Taiwan's academic accomplishments in the field, she said.
The centers not only increase interaction between the library and overseas research institutes and open up more opportunities for cooperation, but also allow more people to interact with and utilize Taiwan's electronic resources related to Sinology and increase Taiwan's international visibility and influence, she added.
Founded in 1956, Tel Aviv University is Israel's largest university, library International Cooperation Division head Fan Yun-feng (繁運豐) said.
The university is an important center for East Asian studies in Israel due to its deep explorations of the Chinese, Indian and Japanese civilizations, as well as the interactions between them, he said.
The library said that it has provided the new center 214 books related to Sinology and Taiwan studies and would continue adding books each year.
It has also provided electronic resources for professors and students at the university to use as references in their research, it said.
Under a cooperation agreement, the library is also to host Sinology lectures, conferences and exhibitions, it added.
At the launch ceremony, Tseng gifted the university reprints of Dongpo's Poetry (註東坡先生詩) and the Diamond Sutra as a witness to the cooperation, the library said.
University vice president Raanan Rein thanked the library for enriching the research resources available to the school and East Asian Studies Department chair Ori Sela expressed the hope that this would be the first step in a long-term cooperation between the two organizations, the library added.
Comments will be moderated. Keep comments relevant to the article. Remarks containing abusive and obscene language, personal attacks of any kind or promotion will be removed and the user banned. Final decision will be at the discretion of the Taipei Times.