NTU professor awarded the Blaise Pascal Chair
PRESTIGIOUS POSITION: Chen Pi-sin has been working on an experiment with Nobel laureate Gerard Mouru to attempt to solve the black hole information paradox
National Taiwan University (NTU) has announced that professor Chen Pi-sin (陳丕燊) has been named a Blaise Pascal Chair for his research into simulated black holes.
Chen, who is director of the Leung Center for Cosmology and Particle Astrophysics at the university, said the chair would enable him to continue his research into black holes.
He has over the past year worked with Nobel Prize in Physics laureate Gerard Mouru on an experiment both had proposed in the paper "Accelerating Plasma Mirrors to Investigate the Black Hole Information Loss Paradox," published by Physical Review Letters in January last year.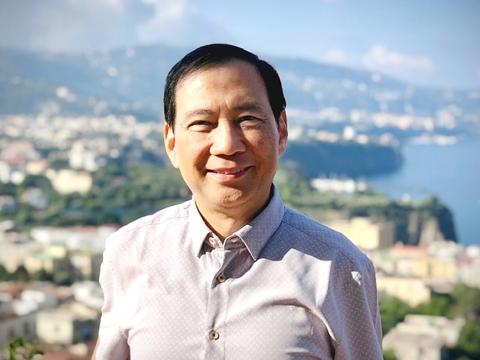 National Taiwan University professor Chen Pi-sin, who has been awarded the prestigious Blaise Pascal Chair for his research into simulated black holes, poses for an undated photograph.
Photo courtesy of National Taiwan University
The two are exploring what is known to as the black hole information paradox, namely whether physical information would continue to exist when it is devoured by a black hole.
The premise of the experiment hypothesized that Albert Einstein's theories of general and special relativity could be paradoxical with quantum mechanics, Chen said.
"With the use of lasers, plasma targets with density gradients and relativistic plasma mirrors, we have created an environment analogous to the late-time evolution of black hole Hawking radiation," Chen said.
Chen is to be invited to conduct further experiments at Ecole Polytechnique in Paris, where he would have access to the Laboratoire pour l'Utilisation des Lasers Intenses, the university said.
The Blaise Pascal Chair, named after one of the first two inventors of the mechanical calculator, was conceived in 1996 by the government of the Ile de France region, which surrounds Paris, to invite prestigious academics to visit and study.
The laureate of the Blaise Pascal Chair is considered an extremely prestigious position.
Of more than 90 chair recipients over the years, five have been Nobel Prize winners.
Nominees are chosen every year by a scientific committee from outstanding scientists around the world in a wide range of disciplines.
Additional reporting by CNA
Comments will be moderated. Keep comments relevant to the article. Remarks containing abusive and obscene language, personal attacks of any kind or promotion will be removed and the user banned. Final decision will be at the discretion of the Taipei Times.