New Southbound Policy: Taiwanese tech firms eye SE Asia
SMART SOLUTIONS: The firms in July met with the Thai minister of digital economy and society to discuss opportunities for expansion of the industry
ASEAN nations and India are increasingly focused on Industry 4.0 — the trend of automation and data exchange in manufacturing, cloud computing, the Internet of Things and cognitive computing — and major Taiwanese technology companies have been answering the call.
One of those companies is Advantech Co Ltd (研華科技), which held an Industry 4.0 forum in Ho Chi Minh City last year with Vietnamese systems integration company Techpro Thailand — the first large-scale forum of its kind to be held in Vietnam.
Advantech chief executive Ho Chun-sheng (何春盛) said Vietnam became a key nation in the company's development strategy not only to satisfy the requirement of investors to shift production capacity to Vietnam, but also to expand into the Vietnamese market.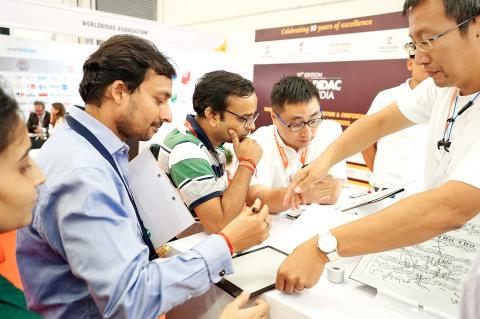 People examine an advanced electronic paper developed by a Taiwanese company on Oct. 6, the final day of the three-day Didac India, the biggest education fair in South Asia, organized by the India Didactics Association in New Delhi.
Photo: CNA
The industries that Advantech is focused on developing in Vietnam are smart transportation, smart energy production and smart manufacturing.
Techpro Thailand has invested in Advantech's first service center for its products in Vietnam, where Advantech said its overall development strategy is three-pronged: development of designated industries, local investment and training of local talent.
"Taiwan can invest in producing computers, cellphones and electronic components in Vietnam. Just look at Intel, which has invested US$1 billion in Vietnam. So I hope there can be more high-tech Taiwanese companies investing in Vietnam — doing high-tech stuff there, computers ... because Vietnamese youth are very intelligent, they can pick up skills very quickly," Representative to Vietnam Tran Duy Hai (陳維海) said.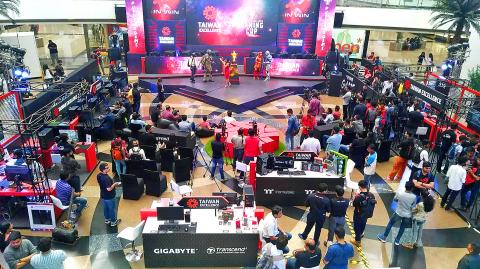 People take part in the final games of the Fifth Taiwan Excellence Gaming Cup organized by the Taiwan External Trade Development Council in Mumbai, India, on Saturday.
Photo: CNA
This year's Smart Asia forum, which was held from Oct. 4 to Oct. 6 in Bengaluru, India, was also largely focused on Industry 4.0 and was attended by 32 Taiwanese computer companies, including D-Link Corp (友訊科技), Gigabyte Technology Corp (技嘉科技), QNAP Systems Inc (威聯通科技), Acer Inc (宏碁) and Asustek Computer Inc (華碩).
The exhibition largely focused on the Internet of Things and other Industry 4.0 solutions, and showcased products for smart homes, smart offices and smart cities.
Taiwanese firms told attendees that collection and analysis of data from production lines could help improve the manufacturing process and the settings of manufacturing equipment could be automatically adjusted in response to conditions along the production line.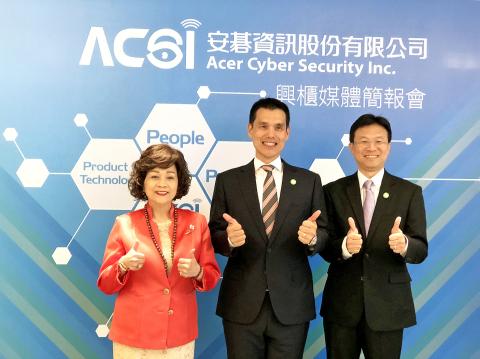 Acer Cyber Security Inc chairman Maverick Shih, center, general manager Rex Wu, right, and Information Service Industry Association of the Republic of China director-general Yvonne Chiu pose for a photograph at a news conference in Taipei on Aug. 9 as the company was listed on the Emerging Stock Market.
Photo: Chen Ping-hung, Taipei Times
The Taiwan External Trade Development Council — which opened a new trade office in New Delhi in April — sent 10 companies to attend the Fourth Smart Cities India Expo held from May 23 to May 25 in the Indian capital.
At the expo, QNAP presented cloud-based smart solutions, IEI Integration Corp (威強電) showcased its intelligent transportation system solutions, Elitegroup Computer Systems Co (精英電腦) demonstrated its industrial energy-saving solutions and Microprogram Co (微程式資訊) showcased its intelligent payment and smart home solutions.
Thailand has also been focusing its efforts on the development of Industry 4.0 solutions and in the past few years has been promoting large-scale investment.
Its Thailand 4.0 initiative, which aims to build an innovation-driven economy, as well as develop the eastern seaboard of the nation — known as the Eastern Economic Corridor.
In July, Information Service Industry Association of the Republic of China director-general Yvonne Chiu (邱月香) led 12 Taiwanese information services companies to attend a symposium in Bangkok.
The companies, including Tatung System Technologies Inc (大同世界科技) and Sunnet Technology Corp (旭聯科技), met with Representative to Thailand Tung Chen-yuan (童振源) and Thai Minister of Digital Economy and Society Pichet Durongkaveroj to discuss opportunities for expansion of the technology industry in Thailand and cooperation between the two nations.
The group also set up a meeting between Thai industrial conglomerate Amata Corp PCL and the World Taiwanese Chambers of Commerce.
The July trade mission focused on smart cities, smart manufacturing and smart information security.
Amata operates two large industrial parks in Thailand — in Chonburi Province's Amata Nakorn Industrial Park and Rayong Province's Amata City.
Together the parks house 730 enterprises employing 180,000 workers.
The trade mission was focused on investment in the Eastern Economic Corridor, support for Thailand 4.0 and investment in a smart city at the Amata Nakorn Industrial Park.
Primarily this focused on eight smart services for the city: energy conservation, transportation, communities, environment, education, factories, aviation, and research and development.
A Taiwan area is to be established at the park, with plans for cooperation with Taiwanese information and communications technology companies.
Brian Eyler, director of the Stimson Center's Southeast Asia program in Washington, said that Taiwan's strengths lay in its achievements in digitization, e-commerce, network infrastructure and green energy.
The services industry would be the driving force for medium-term growth in ASEAN nations, especially financial technology, telecommunications systems, transportation, real estate, medicine and quality agriculture, Eyler said.
Comments will be moderated. Keep comments relevant to the article. Remarks containing abusive and obscene language, personal attacks of any kind or promotion will be removed and the user banned. Final decision will be at the discretion of the Taipei Times.