Documents show Dutch-era Tainan street plans
Researchers yesterday said they have discovered a trove of documents detailing street plans of mid-17th century Tainan under Dutch rule, highlighting the city's role as a commercial hub inhabited by migrants from across Southeast Asia.
The nation's oldest city, Tainan was founded nearly 400 years ago when urban settlements gathered around two Dutch strongholds — Fort Zeelandia, also known as Anping Fort (安平古堡), and Fort Provintia, also known as the Chihkan Tower (赤崁樓), Academia Sinica's Institute of Taiwan History said in a press release.
Studies about Taiwan during the Dutch colonial era mainly come from the East India Co's records, but the latest discovery could shed some light on the period's history from a civilian perspective, Menno Leenstra, a researcher at the Netherlands-based Centre for International Heritage Activities, told a news conference at the institute.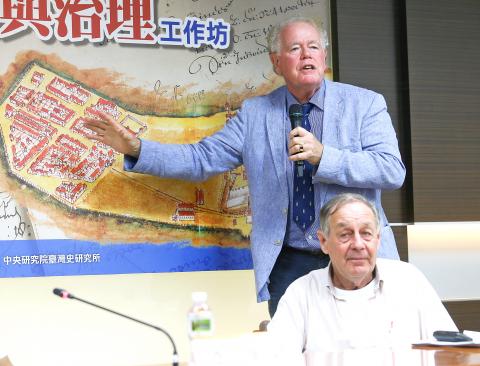 Leiden University professor Leonard Blusse, back, and Centre for International Heritage Activities researcher Menno Leenstra participate in a news conference held by Academia Sinica's Institute of Taiwan History in Taipei yesterday.
Photo: CNA
The trove consists of about 35 documents originally owned by an East India Co employee named Nicasius de Hooghe, who was tasked with measuring Zeelandia's streets from 1643 to 1647 until he left Taiwan, Leenstra said.
On the way back to his home in Amsterdam, De Hooghe, along with his wife and one of his two sons, died in an accident.
His surviving son was placed under the guardianship of his uncle, Romeyn de Hooghe, and notary Sebastiaan van der Piet, Leenstra said.
While searching the family archives preserved by the notary about three years ago, Leenstra said he discovered accounts about the De Hooghe family's stay in Taiwan and an inventory of the lost city plan.
The discovery was unexpected because he had been conducting studies about dodos, an extinct bird, to gather information about Asian shipping activities in that era, he added.
Judging from the documents, some of the most prominent Chinese merchants in Zeelandia did not migrate directly from China's coastal provinces, but from various places in Southeast Asia, institute assistant research fellow Cheng Wei-chung (鄭維中) said.
Hoklo was the main language of the Chinese inhabitants, but many could also speak Malaysian or Japanese, Cheng said, adding that Portuguese and Spanish were also common among Dutch migrants.
Due to limited sources, a majority of Taiwan's architectural studies start from the 18th century, during the Qing Dynasty, but the newly found documents can help historians reconstruct buildings as early as the 17th century, said Huang En-yu (黃恩宇), an assistant professor at National Cheng Kung University's Department of Architecture.
Comments will be moderated. Keep comments relevant to the article. Remarks containing abusive and obscene language, personal attacks of any kind or promotion will be removed and the user banned. Final decision will be at the discretion of the Taipei Times.