ELECTION: DPP stages China-focused rally, march in Kaohsiung
'OLD TRICKS': KMT spokesman Hung Meng-kai said the DPP had dropped its aspirations for independence after taking office, despite using the issue to shore up its base
About 10,000 people yesterday rallied in front of Kaohsiung's National Stadium for a Democratic Progressive Party (DPP) event themed "Against Chinese Annexation; Protect Taiwan, Against [Chinese] intervention [in elections], Protect Kaohsiung."
The event started with a performance by Golden Melody Award winner Yan Yung-neng (嚴詠能), a Kaohsiung native, and his band Takaorun (打狗亂歌團).
Speaking on behalf of the organizers, Kaohsiung City Council Speaker Kang Yu-cheng (康裕成) said that for years, China has colluded with unification-minded forces in Taiwan to sow discord in Taiwanese society.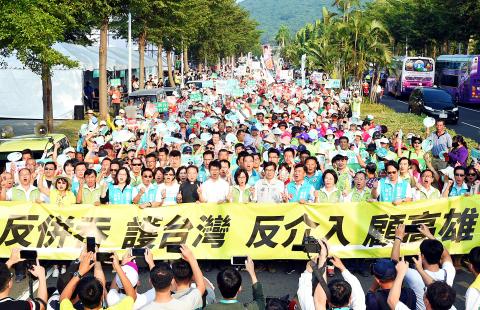 Participants in a rally organized by the Democratic Progressive Party in front of Kaohsiung's National Stadium yesterday hold up a banner in front of photographers.
Photo: Chang Chung-yi, Taipei Times
She urged the public to stay alert to "nefarious Chinese forces" that she said have been spreading disinformation on the Internet to manipulate the Nov. 24 nine-in-one elections and to take a firm stand against such forces.
"The year-end elections top the list of Taiwan's priorities. We must shatter China's ambitions and showcase our steadfast resolve as we send it a clear message: Taiwanese will not allow China to annex Taiwan," she said.
DPP Kaohsiung mayoral candidate Chen Chi-mai (陳其邁) said that people around the world are paying attention to Taiwan for three reasons.
First, as the effects of the US-China trade war on Taiwan's economic development begin to show, many Taiwanese businesses in China are thinking about moving back and investing in Kaohsiung, he said.
Winbond Electronics Corp has announced an investment in the planned Ciaotou Science Park (橋頭科學園區) in Kaohsiung, which is an opportunity to grow the city and its economy, he said.
Second, the Chinese military has sailed and flown around Taiwan as it vies with the US for dominance in the South China Sea, posing a military threat to Taiwan, which has stoked up widespread antipathy among Taiwanese, he said.
Third, online disinformation factories with IP addresses in China have sought to interfere in the elections, posting "fake news" that has made its way to Taiwan and beyond, he said, adding that his Facebook page has been under continuous attack by the so-called "50 cent army" of Chinese state-sponsored Internet users.
"As the world waits to see what kind of decision Kaohsiung residents make, we must vote in a way that shows the world that Taiwan is an independent and autonomous nation. We must protect Kaohsiung against disinformation," Chen told the crowd.
After chanting slogans, participants set out on a march on World Games Boulevard in a show of solidarity.
Chinese Nationalist Party (KMT) spokesman Hung Meng-kai (洪孟楷) yesterday said the DPP was trying to salvage its campaign in Kaohsiung with a China-focused march.
When the DPP was in the opposition, it solicited votes from supporters of independence, but it promptly ditched the concept of Taiwanese independence after taking office, Hung said.
Such reversals are what prompted the pro-independence Formosa Alliance to hold a rally in Taipei yesterday, he said, adding that the march in Kaohsiung leaned on the DPP's "bag of old tricks" of vilifying the KMT and the Chinese Communist Party.
"The people will not be fooled again and will make the right judgment with their ballot," Hung said.
Additional reporting by Shih Hsiao-kuang
Comments will be moderated. Keep comments relevant to the article. Remarks containing abusive and obscene language, personal attacks of any kind or promotion will be removed and the user banned. Final decision will be at the discretion of the Taipei Times.