Hualien County's ban to beat plastics is a national first
A MIXED REACTION: Some parents said that the policy, which affects schools and public offices, had been rushed, while others have applauded it
The Hualien County Government on Monday became the nation's first local government to ban disposable plastic utensils, containers and bags at public offices and schools, following an executive order by the Hualien County Environmental Protection Bureau late last month.
The regulation forbids anyone bringing single-use plastic chopsticks, spoons, straws, knives, forks, bowls, plates or cups to a government office, military base or school, including private schools, the bureau said.
Rising garbage incineration costs and overburdened landfills have made reducing waste a county-wide priority, the bureau said.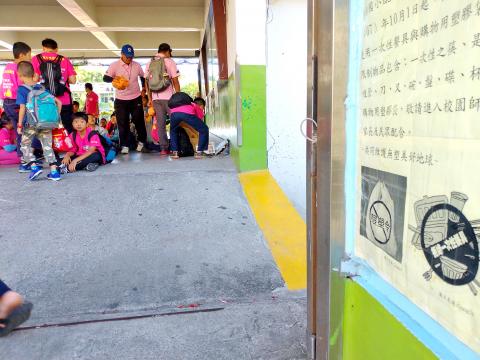 A poster publicizing the Hualien County Government's ban on disposable plastic utensils, containers and bags at schools is posted at an elementary school in the county on Wednesday.
Photo: Wang Chin-yi, Taipei Times
The bureau plans to inspect the offices and schools, and establish a points system for filing requests for compliance, the bureau said, adding that repeat transgressors would be subjected to mandatory inspections.
"Government offices and schools should lead by example to reduce plastic use, and although the regulations could lead to temporary inconveniences, this policy is inevitable and implementing it early should be a good thing," the bureau said.
The policy's reception among parents was mixed, with some complaining that the implementation was rushed and that their children were reprimanded at school for using forbidden plastic items.
Reducing the use of plastics is good for the environment and the county should not be faulted for adopting a policy that the national government might eventually adopt, other parents said.
"If each student uses just one plastic bag for a takeout breakfast, that generates a lot of plastic," one parent said.
Comments will be moderated. Keep comments relevant to the article. Remarks containing abusive and obscene language, personal attacks of any kind or promotion will be removed and the user banned. Final decision will be at the discretion of the Taipei Times.