Two more allies voice support for Taiwan
'RESPONSIBLE' PARTNER: The prime minister of Tuvalu voiced his support for Taiwan's participation in the UN, and thanked the nation for its assistance in the energy sector
The leaders of Tuvalu and Saint Vincent and the Grenadines on Thursday lent support to Taiwan's bid to be included in UN activities during the world body's week-long general debate in New York City, bringing the number of diplomatic allies that have spoken in support of the nation to eight.
Tuvaluan Prime Minister Enele Sosene Sopoaga said in his speech at the debate, which opened on Tuesday and ends on Monday next week, that Taiwan's exclusion from the UN system denied 23 million people their fundamental right to participate.
"Already, Taiwan is a responsible and able partner to Tuvalu and many other countries in many regions of the world, and could only do more if it is allowed its rightful place and role in our global efforts to achieve sustainable development," Sopoaga said.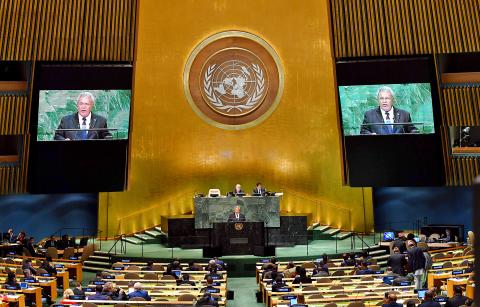 Tuvaluan Prime Minister Enele Sosene Sopoaga speaks during the 73rd session of the UN General Assembly on Thursday.
Photo: AFP
Tuvalu believes the UN should make the necessary arrangements to let Taiwan participate in its meetings, activities and mechanisms under UN processes, including those under the world body's specialized agencies, he said.
Sopoaga also extended his appreciation to Taiwan for its support regarding energy efficiency and solar energy development in the South Pacific island nation, as well as for helping Tuvalu prepare to host the 50th Pacific Islands Forum next year.
The forum is an intergovernmental organization that was established in 1971 to improve cooperation among Pacific Ocean nations. Taiwan has since 1993 participated in forum events as a developmental partner under the name "Taiwan/Republic of China."
Saint Vincent and the Grenadines Prime Minister Ralph Gonsalves addresses the 73rd session of the UN General Assembly on Thursday.
Photo: AP
During this year's forum that concluded earlier this month in Nauru, Minister of Foreign Affairs Joseph Wu (吳釗燮) pledged to establish a US$2 million fund to subsidize Taiwanese medical teams that serve forum member states.
Saint Vincent and the Grenadines Prime Minister Ralph Gonsalves also called for Taiwan's inclusion into the UN's specialized agencies.
"Unencumbered by historical or ideological blindness, the UN, which justly counts among its member states populations as small as 10,000 people, somehow continues to remain blind to the 23 million residents of Taiwan," Gonsalves said.
He said there is simply no principled basis to deny Taiwan the right to participate in the work of UN specialized agencies.
Due to Chinese pressure, Taiwan has been unable to attend the annual World Health Assembly since last year and was also excluded from the International Civil Aviation Organization Assembly in 2016.
The two leaders' support followed similar rhetoric by the heads of Paraguay, the Marshall Islands, Eswatini, Kiribati, Nauru and Palau at the UN General Debate on Tuesday and Wednesday.
Comments will be moderated. Keep comments relevant to the article. Remarks containing abusive and obscene language, personal attacks of any kind or promotion will be removed and the user banned. Final decision will be at the discretion of the Taipei Times.