KMT accuses Su of being 'rude' to warden
The Chinese Nationalist Party (KMT) caucus yesterday accused Democratic Progressive Party (DPP) New Taipei City mayoral candidate Su Tseng-chang (蘇貞昌) of being "rude" to a borough warden who was trying to petition him on Sunday about the construction of a new Shenao Power Plant.
The former premier had just left the opening ceremony for his campaign office in Rueifang District (瑞芳) when Longshan Borough (龍山) Warden Chen Chih-chiang (陳志強), who is also the director of the Anti-Shenao Plant Self-Help Group, greeted him and asked him to publicly express his stance on the coal-fired plant.
"Do you know what we are doing here today?" Su said, patting Chen on the shoulder, in footage posted by Chen on Facebook.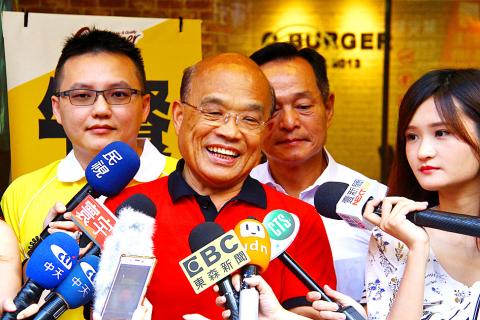 Democratic Progressive Party New Taipei City mayoral candidate Su Tseng-chang talks to reporters yesterday in the city.
Photo: Chiu Shu-yu, Taipei Times
"Give me that," Su said, grabbing Chen's arm and taking the petition and health report from him.
"Thank you! Good luck to you," he said as he patted Chen on the shoulder, stomach and chest before leaving.
In his Facebook post, Chen said he "did not know what Su was pounding his hand on his stomach for" and he "could not see Su's magnanimity."
KMT Legislator Alicia Wang (王育敏) told a news conference in Taipei that Su's behavior had been"rude" and "barbaric."
It was regrettable that Su was afraid to make public his stance on the Shenao plant and that he would hit a borough warden in such a barbaric manner, she said.
Su on Monday night posted an online apology and then apologized again yesterday while campaigning in Jhonghe District (中和).
"I am only human, not divine," Su said. "If a stranger charged at you on a street and asked for your opinion on something, most people would feel awkward and would not be pleased."
"If I treated Mr Chen badly, I hope that he would accept my sincere apology," Su said.
He realized that society expects more from him and that he would use the incident as a reminder about his behavior, he said.
Asked by reporters why he "slammed" his fist on Chen's stomach and shoulder, Su said he had a habit of patting people's shoulders.
His position on the Shenao plant has not changed, he said.
"If New Taipei City's 4 million residents want to develop the local economy and have a good life, they need electricity. Opposition does not help to generate electricity," he said.
The plant has been a major source of contention between Su and his main rival, former New Taipei City deputy mayor Hou You-yi (侯友宜) of the KMT.
The original plant was mothballed in 2007 and demolished in 2011. The upgraded plant is scheduled to have supercritical steam generators, which would have an output capacity of 1.6 million kilowatts.
The plant is a major part of the DPP's "nuclear-free homeland" policy, which seeks to readjust the nation's energy generation sources to 20 percent renewables, 30 percent coal and 50 percent natural gas.
Comments will be moderated. Keep comments relevant to the article. Remarks containing abusive and obscene language, personal attacks of any kind or promotion will be removed and the user banned. Final decision will be at the discretion of the Taipei Times.