KMT caucus criticizes new CEC rules
REFERENDUM PETITIONS: The caucus condemned what it said were the CEC chairman's frequent criticism of KMT referendum proposals in his comments to the media
The Chinese Nationalist Party (KMT) caucus yesterday protested what it said was the Central Election Commission's (CEC) tightening of review regulations for referendum proposals, and accused CEC Chairman Chen In-chin (陳英鈐) of demeaning proposals submitted by the KMT when talking to reporters.
The commission earlier this month published a set of regulations on reviewing the content of referendum proposals, targeting duplicate wording in different proposals.
Chen told a news conference on Monday that 60 percent of the penmanship on three KMT referendum proposals on air pollution is identical, and some signatures gathered during the referendum petition drives were allegedly in the names of dead people.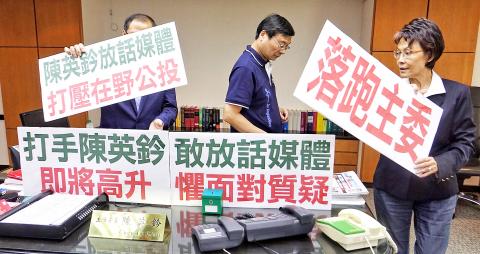 From left, Chinese Nationalist Party (KMT) legislators Wu Chih-yang, William Tseng and Huang Chao-shun place signs on the vacant desk of Central Election Commission Chairman Chen In-chin yesterday to highlight their complaints against Chen and the commission.
Photo: Liu Hsin-de, Taipei Times
The new regulations contain ambiguous language on the creation of "review task forces" at household registration offices, making their implementation troublesome, KMT caucus secretary-general William Tseng (曾銘宗) said.
He also took issue with a regulation stipulating that the people tasked with determining whether there are duplicate signatures on referendum petitions make a judgement based on the shades of ink used, because booths set up by the KMT to gather signatures provided pens for people to use to sign their names.
One regulation stipulates a NT$3 bonus for household registration officers for each petition they rule has been duplicated, which would encourage public servants to scrap people's referendum proposals, Tseng said.
The KMT caucus condemns Chen's frequent criticism of the KMT's referendum proposals to the media, and it is considering suing Chen for slandering the KMT and proponents of its referendums, he said.
Tseng and colleagues Sra Kakaw and Huang Chao-shun (黃昭順) later went to the commission and demanded a meeting with Chen, which began at 2pm.
Tseng said he told Chen that as an official whose work requires absolute neutrality, he should be more discreet when speaking to the media.
Chen told his visitors that the commission had often been misquoted by the media.
For example, commission Deputy Chairman Chen Chao-chien (陳朝建) had never said that Friday was the deadline for the KMT to revise its referendum proposals and he had clarified the issue "dozens" of times, but some reporters seemed intent on distributing misleading information, Chen In-chin said.
The commission should promptly issue a statement whenever it is misquoted by media, Tseng said.
Chen In-chin responded by promising to pay special attention to "words put in his mouth."
Meanwhile, the Democratic Progressive Party caucus said the KMT should apologize to the families of any dead person whose signature it had used on its referendum petitions.
The KMT should publicly release the petitions it gathered so that people could decide whether there was identical handwriting in the signatures, it said.
Public servants should report any suspected forgery to the authorities according to the Referendum Act (公民投票法), it added.
Additional reporting by Su Fun-her
Comments will be moderated. Keep comments relevant to the article. Remarks containing abusive and obscene language, personal attacks of any kind or promotion will be removed and the user banned. Final decision will be at the discretion of the Taipei Times.