Historic department store in Tainan exhibits keepsakes
An exhibition of memorabilia and photographs from the Hayashi Department Store in Tainan can be viewed inside the historic building until the end of November.
Opened in 1932, it was the first department store in southern Taiwan to have elevators.
Stacy Tseng (曾芃茵), deputy manager of the store's planning department, has been collecting store memorabilia since it reopened in 2013, after a 68-year hiatus.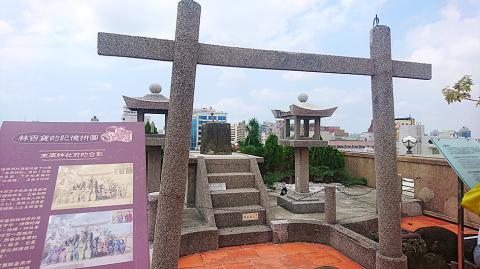 A Shinto shrine on the top floor of Hayashi Department Store in Tainan is pictured on Sunday.
Photo: Liu Wan-chun, Taipei Times
Among the keepsakes on display are a lunchbox kept in the family of oil painter Cheng Pai-chen (鄭百真) for three generations, a notebook sold at the store during the Japanese colonial era on loan from designer Cheng Pei-che (鄭培哲), a garment cover for storing kimonos on loan from Lin Li-hua (林麗華) and a kimono on loan from National Tainan Girls' Senior High School alumna Sumiko Akiyama — the only kimono she took when she left and went to Japan, Tseng said.
The exhibition includes a wedding photograph of then-employees Lee Hsi-chuan (李錫全) and Lee Chen Ching (李陳錦), who held the ceremony at a Tainan shrine with the department store manager serving as a witness; a photograph taken of employees at work in the store; and a photograph of employees on an outing.
A photograph dated 1934 shows employees at a farewell party for two colleagues, posing with an arch made of inflatable lifebuoys in front of the department store's elevator.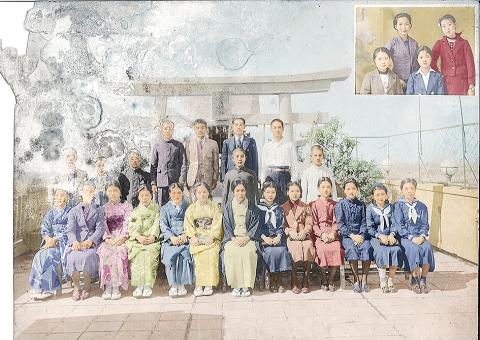 Hayashi Department Store founder Houichi Hayashi's wife, Toshi Hayashi, and store employees are pictured in front of a shrine in Tainan in an undated photograph.
Photo: reproduced by Liu Wan-chun, Taipei Times
A group photograph shows department store founder Houichi Hayashi's wife, Toshi Hayashi, with employees in front of a shrine and another photograph shows a Tainan cityscape, which was taken from the roof of the department store and loaned by Huang Chien-lung (黃建龍).
The artifacts and photographs are on display on all six floors of the department store.
Comments will be moderated. Keep comments relevant to the article. Remarks containing abusive and obscene language, personal attacks of any kind or promotion will be removed and the user banned. Final decision will be at the discretion of the Taipei Times.