Indonesia deports Taiwanese official over 'illegal entries'
ASIAN GAMES: Jakarta's representative office said that Elsa Mai was asked to leave after a critical speech, but Indonesian authorities gave a different account
Indonesian government officials yesterday accused Chinese Taipei Aerosports Federation chairwoman Elsa Mai (麥令琴) of disrupting competitions and entering Asian Games venues unauthorized, after she was deported back to Taiwan on Wednesday.
News media reported that a "Taiwan sports official" was "sent home in disgrace," but reporters said that the Taipei Economic and Trade Office (TETO) in Jakarta and the Taiwanese sports delegation gave vastly different explanations than Indonesian news reports.
Mai is Taiwan's top representative for paragliding and accompanied a team of five athletes and one coach to the Games.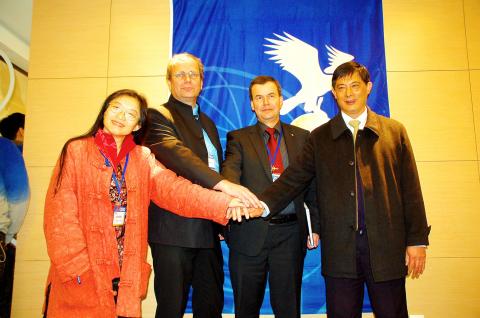 Chinese Taipei Aerosports Federation chairwoman Elsa Mai, left, is pictured at the FAI-CIVL Plenary Meeting in Yilan on Feb. 18, 2012.
Photo: Yu Ming-chin, Taipei Times
She was detained and deported by Indonesian immigration authorities because she used another person's identification to attend a paragliding technical committee meeting, Liberty Times (sister newspaper of the Taipei Times) reporters at the Games said.
A TETO official said that "Mai was speaking at a seminar on paragliding, expressing concerns about scoring standards.... but the organizing committee of the Asian Games asked her to leave the country."
However, media pointed out that Taiwanese officials tried to downplay the matter by only saying that she attended "a seminar."
Indonesia's official Antara news agency yesterday said that after attending a technical meeting on Saturday, Mai made three unauthorized entries into paragliding venues, once on Monday and twice on Tuesday.
Mai's actions were deemed serious and could have jeopardized athletes' safety, prompting immigration officials to detain and deport her, Indonesian media said.
"Mai used the identity of an Asian Games official. She managed to participate in an informal event, including the technical meeting on August 18, despite not being an athlete or an official at the event," Indonesian Directorate General of Immigration spokesman Agung Sampurno told Antara.
"On August 20, Mai entered the paragliding venue in Puncak resort area in Bogor, West Java. She provoked all the participants to reject the official results of the international technical officer and national technical officer. The competition manager then sent her away from the venue for disrupting the game," Sampurno said.
"We have proof Mai has been using other people's accreditation cards to enter the athletes' camps, disturbing the event, provoking participants to reject the officers' results, and intentionally breaking the law," he said. "This is a threat to the safety of the athletes and officials of the paragliding sport."
"We have deported Elsa Mai, a Chinese Taipei national, aboard a China Airline CI 762 [flight], from Soekarno Hatta International Airport at 12:30 local time," Sampurno was quoted as saying.
As of press time last night, the federation's office had not responded to several Taipei Times requests for clarification regarding the allegations and discrepancies in news reports.
Comments will be moderated. Keep comments relevant to the article. Remarks containing abusive and obscene language, personal attacks of any kind or promotion will be removed and the user banned. Final decision will be at the discretion of the Taipei Times.